'Corbyn smears': the last-minute debate on Twitter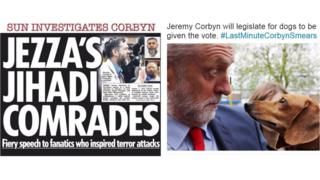 On the final full day of campaigning, a debate over coverage of Labour leader Jeremy Corbyn was the biggest single topic of conversation on UK Twitter.
The hashtag "Last Minute Corbyn Smears" was at the top of Twitter's UK trends list, with more than 60,000 messages posted in a matter of hours. Most tweeters were responding to anti-Corbyn stories in tabloid newspapers, in particular a front-page story in The Sun which alleged that 15 years ago, Corbyn addressed a crowd which included Islamic extremists:
The Sun story was based on a story on the Guido Fawkes blog, which reported that a noisy contingent of 200-300 members of the now-banned group Al-Muhajiroun was among a crowd of at least 8,000 at a pro-Palestine rally held in London in 2002. Corbyn was one of several politicians who addressed the rally.
Online, Corbyn supporters have claimed that the Sun headline - and other anti-Labour stories published today - are sensationalist, and have responded with mocking, trumped-up headlines:
One person jokingly suggested that Corbyn's vegetable-growing prowess might have been boosted by illegal substances:
Others made jokes about rather odd campaign photos (according to witnesses, in this picture, Corbyn is actually holding up the amplifier so that the audience could hear a speech from his colleague Rachael Maskell):
The trend was driven by Corbyn's online supporters, but opponents of the Labour leader also started using to hashtag - to defend the press coverage. Many retorted with this line:
Others took the opportunity to underline their argument, that negative headlines about Corbyn aren't as outlandish as his supporters are suggesting.
Blog by Sam Bright