Return of Farage?: UKIP is still a force - on Twitter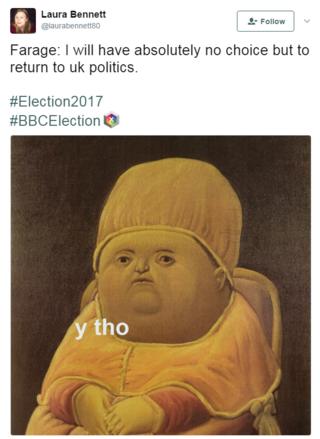 There's one place where UK Independence Party is racking up big numbers: social media.
Like during the 2015 general election, UKIP has been at the centre of attention on Twitter. But in 2017, it's for a very different reason, and the tone of discussion has changed. Whereas two years ago they picked up more than 12% of the vote, this time around their share has collapsed, and gloating opponents have been chatting about the party since the polls closed.
However, UKIP still views itself as the bastion of Brexit, and its leading figure - Nigel Farage - has made waves on social media again over this issue. In an election-night interview with the BBC, Farage said that he would have "no choice" but to return to front-line politics if Brexit was threatened.
This has pushed Farage's name onto Twitter's top trends list, with many users lamenting the potential return of the former UKIP leader.
The trend seems to be driven mostly by UKIP opponents, though there are many people who are celebrating the prospective return of Farage.
While others questioned the amount of airtime given to the former UKIP leader.
Blog by Sam Bright
You can follow BBC Trending on Twitter @BBCtrending, and find us on Facebook. All our stories are at bbc.com/trending.