How quilting got ripped apart by American politics
By Hannah Henderson
BBC Trending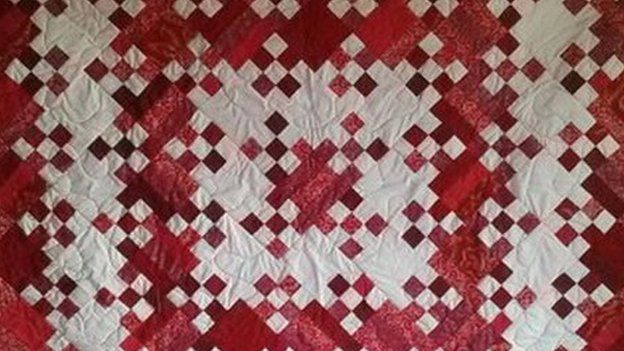 Social media has breathed life into many hobbies and skills that once might have seemed old-fashioned, and quilting is one prime example. But now, in a symptom of America's divisive political climate, online communities devoted to this traditional American art form have been ripped apart.
It started with political chat and ended up with abusive messages, calls for boycotts and an online civil war between liberals and conservatives. A familiar story, perhaps - only this time it happened in the world of quilting.
The traditional American hobby has - like knitting, baking and other skills - been given a new lease of life by social media, through Reddit discussions, online commerce and the ease of spreading tips and knowledge via digital videos.
But in recent weeks, online communities and bloggers have been discussing a series of screenshots which appear to show socially conservative quilters organising campaigns and hurling insults about other enthusiasts who don't share their political beliefs.
The screenshots come from a Facebook group called "Conservative with a Common Interest", although its name has changed over the past few weeks.
It's a secret group - it doesn't show up in search results and only members can see posts.
Over the past few months, members of the group discussed President Donald Trump, organised quilts for charity projects and supported members through difficult personal circumstances. But as time went by, the leaked screenshots show that discussions took a different turn.
Members organised a drive to send complaints to an exhibition which had put out a call for quilts protesting against the Trump presidency. They contacted the sponsors of one liberal quilter to suggest that she should be dropped because of her opposition to Trump.
They sent homophobic messages to gay artists and contacted quilting trade shows, asking organisers to cancel classes run by quilters they thought were too liberal.
And they suggested boycotting certain quilters, or reporting them to the IRS - the American tax authorities - so that they would be tied up in tax investigations. Targets were chosen because of their support for things like Planned Parenthood and and women's rights, among other liberal causes.
Members of "Conservative with a Common Interest" sometimes publicly remained friends with the people they were discussing.
The private messages came to light when Eric Suszynski, a quilter with liberal views from Chicago, posted them on his blog. He was sent the screenshots by a friend.
"I was surprised by the conversations these people were having," he tells BBC Trending radio. "I wanted people to see that there was this problem in the quilting community, that these people were just bullies."
But his actions were not met with universal praise.
"I have gotten people who thanked me for exposing this hate group, people who shamed me for exposing this hate group," he says, "[Also] people who told me I was perpetuating hate towards them for being hateful.
"But the number one response I got was, 'Let's not talk about it, let's move past it. Let's ignore this problem and get back to quilting.'"
BBC Trending reached out to members of the conservative group. Several members tell us it started as a safe space for professional quilters to discuss their twin passions of politics and quilting without the fear that they would alienate potential clients who might not share their beliefs.
Although none of the conservative quilters would agree to an interview, members of the group were keen to stress that the messages which are causing the furore are being taken out of context.
They claim that none of the homophobic messages appeared on the group before it was "exposed", and strongly reject suggestions that they are spreading abuse or hate. And they said they have no plans to close the group, although its membership has recently decreased.
One of the people being discussed in the secret group was Frank Palmer, a gay quilter from Florida who said the liberal quilting faction wasn't necessarily keen to fight back.
"The people who were targeted are some of the nicest people in the industry and had a lot to lose if they were to lash out," Palmer tells BBC Trending radio.
"Some of us already knew this contentiousness existed. Those who haven't been on the receiving end of it are generally blind to the hostility experienced by those who just don't 'fit in'.
"My only surprise was that there were people in that group who were pretending to be my friends. That was heartbreaking," he says.
Although it might seem like a rather sedate hobby, the history of quilting is actually steeped in politics. Marsha McDowell, an art history professor and curator at Michigan State University, is not surprised to see bitter divisions erupting in the quilting community.
"Many people think of quilts as a warm, fuzzy domestic art," she says. "Yet we see time and time again artists have used this particular medium to make strong statements that address human rights issues."
One of the most famous pieces of cloth is the Aids Memorial Quilt, an enormous patchwork dedicated to victims of the disease.
"In the US, there are quilt artists who use their art to talk about gun control and Aids. But it is an art form used by individuals regardless of political persuasion. In fact there have been people who have made quilts to support the Ku Klux Klan," McDowell says.
But for artists like Frank Palmer, the actions of the conservative quilters are just the latest in a series of challenges he feels the quilting community as a whole is failing to confront.
"I would love for the dust to settle and everything to go away, but in all likelihood, it won't," he says. "People will say, 'Let's just quilt' and 'This is not the time to talk about this', and that's why it continues."