Mexican politician hits back in House of Cards row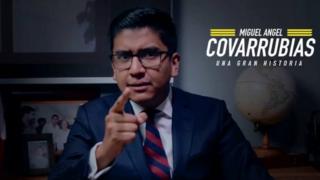 A Mexican politician has countered accusations he plagiarised lines from the Netflix series House of Cards.
Miguel Angel Covarrubias Cervantes, 27, initially posted a video to Facebook delivering a message that was eerily similar to a speech by Frank Underwood - the main character in the hit series.
After the House of Cards Twitter account responded to his message, the former mayor of a town in Tlaxcala - a small state in central Mexico - again posted to Facebook saying he was after the "world's attention".
Mr Cervantes denied plagiarism, telling Mexican national newspaper Milenio that his video was a "clear reference" to the series and that his intention was to go viral.
In his latest video, Mr Cervantes addresses Frank Underwood - the fictional protagonist in the US adaptation of House of Cards - saying his plagiarised lines weren't a "competition or a mistake".
Speaking in Spanish, he continues: "Copying was never the goal...[but] the world's attention of course."
You might also like:
The official account for the Netflix series, @HouseofCards, had tweeted a video of Mr Underwood's chief-of-staff Doug Stamper saying: "To the people of Mexico: It's not a competition, you have no idea where people take their inspiration from. Pay attention now."
The closing banner of the video in Spanish said: "To copy or be copied", similar to the show's version which ends: "To hunt or be hunted." The tweet's caption also read: "Imitation is not always the best form of flattery."
In the former mayor's initial Facebook message, he delivered a speech mimicking that of Mr Underwood, only changing a few of the words.
A YouTube user commenting on a detailed comparison between the speeches labelled it "House of Tlaxcala".
This isn't the first time House of Cards Twitter account has taken a swipe at a politician. In May, it tweeted at UK Prime Minister Theresa May after she chose not to take part in the BBC Election Debate.
It's not the first time either that politicians have been called to account for their speeches.
In May, NBC's The Tonight Show Starring Jimmy Fallon also tweeted video depicting similarities between US President Donald Trump's commencement address at a Coast Guard Academy and Elle Wood's Harvard Law graduation speech in Legally Blonde.
And in July 2016, now-US First Lady Melania Trump was accused of plagiarising portions of a speech from former First Lady Michelle Obama.
By the UGC and Social News team