Syrian town breaks Ramadan fast with Iftar among rubble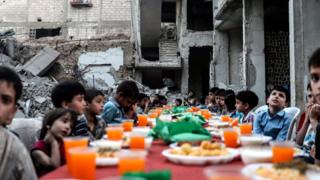 Striking images have been shared online showing residents in the besieged town of Douma - a suburb of the Syrian capital Damascus - taking part in an Iftar feast on a colourful table surrounded by grey destruction and rubble.
The outdoor gathering for residents was organised by the Syrian Adaleh Foundation, founded in 2012 to aid affected areas in rebel-held Eastern Ghouta. The group meals will run for the duration of the last 10 days of the Muslim fasting month of Ramadan.
"We would have normally been cautious to host such events due to air strikes, but we are taking advantage of the latest de-escalation deal," an official from the humanitarian foundation's Turkey bureau told the BBC.
Food prices in Syria are hugely inflated due to the conflict. The food for the Iftar - the meal when Muslims end their daily fast during Ramadan - was prepared in other parts of Eastern Ghouta and brought into Douma, which has been besieged for four years, the official said.
Last month, an aid convoy entered the town for the first time since October 2016. The rebel-held suburb of Douma is controlled by the rebel group Jaysh al-Islam, and has repeatedly been attacked by Syrian government forces with air strikes and barrel bombs in the last few years.
One resident of the town who attended the mass Iftar said several hundred people were present and that they previously would have had such meals "hidden in mosques, fearing strikes".
"I don't know how emotionally confused I would be if I were in the shoes of anyone inside, " said a Syrian medical technologist who tweeted the photos, calling the scene "Life despite death today in Douma."
You might also like:
One Twitter user dubbed the meal an "Iftar of heroes".
"Despite the difficult circumstances, these people hang on to life and teach lessons in perseverance," another added.
Prominent Syrian journalists, including Turkey-based Hadi Abdallah and London-based Mousa al-Omar wished good health to those breaking fast, sharing the images which gained thousands of reactions online.
Several accounts indicated some of the children in attendance were Syrian orphans.
By the UGC and Social News team
You can follow BBC Trending on Twitter @BBCtrending, and find us on Facebook. All our stories are at bbc.com/trending.