Queen's Speech: Is the Queen wearing an EU hat?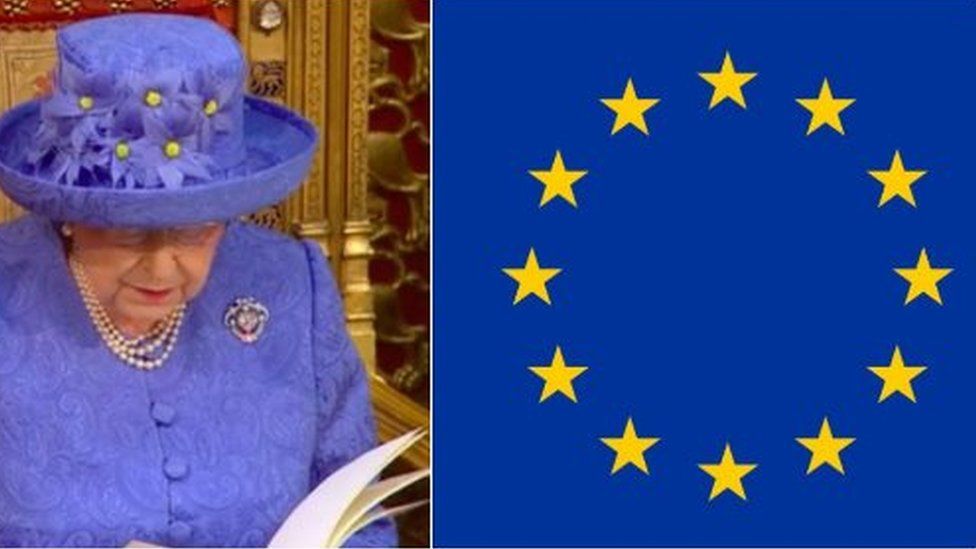 The Queen has opened parliament to lay out the government's plans for the next two years.
At the top of the agenda was Brexit, and as the monarch proposed new laws to prepare the UK for its departure from the European Union (EU), some social users couldn't help noticing the Queen's choice of headwear.
Some used the hashtag to compare the Queen's floral blue hat to the EU flag.
One Twitter user posted: "Nice to see queenie dressed as the EU flag."
And the Queen's hat did not go unnoticed in Europe either. Guy Verhofstadt, the European Parliament's lead negotiator on Brexit, tweeted: "Clearly the EU still inspires some in the UK #QueensSpeech."
It's the first time since 1974 that the State Opening of Parliament has been a less formal affair because of the snap election.
Usually the reigning monarch would arrive in a horse drawn carriage. This time the Queen arrived in a car.
There was also no royal procession into the House of Lords chamber and the Queen wore a dress rather than her crown and ceremonial robes.
Perhaps if she had worn her regal finery there wouldn't have been quite so much interest in her choice of attire.
One user on Twitter argued: "All her clothes are carefully considered with optics and message in mind. Absolutely not coincidental."
Another stated: "Can't be a coincidence. The Queen's too astute for that. She can always point out that it's true blue, with golden bits on hat for a crown."
By the BBC's UGC and Social News team
You can follow BBC Trending on Twitter @BBCtrending, and find us on Facebook. All our stories are at bbc.com/trending.