Twitter reacts to reporter's 'bizarre moment' with Trump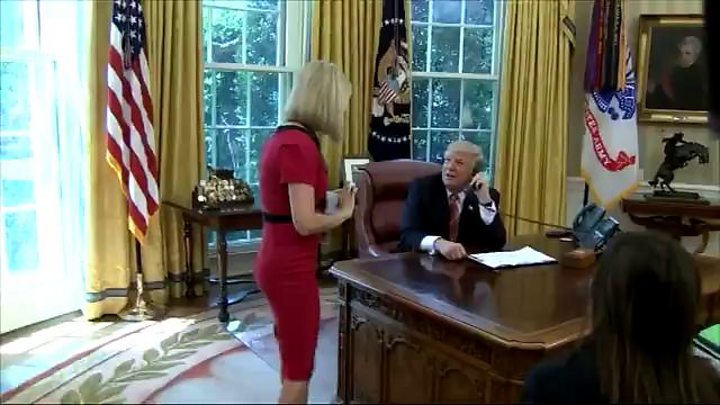 When reporter Caitriona Perry attended a press briefing with US President Donald Trump she probably didn't expect it would spark a debate about workplace sexism.
The RTE Washington Correspondent was at the Oval Office on Tuesday to cover a diplomatic phone call between the US leader and Irish Taoiseach Leo Varadkar.
But as the two leaders discussed Mr Varadkar's new position, and the number of Irish migrants in the US, Mr Trump interrupted the call to compliment Ms Perry's smile.
The exchange on social media has been retweeted more than 8,000 times and has sparked a discussion between supporters and critics of the US president.
Some described the US president as a "creeper" while others argued his comments were a compliment.
"It's a working environment & she should be treated as a professional journalist and not reduced to her smile," posted one Twitter user.
Another remarked: "There are simply no words to describe how violated I feel for her."
Another questioned whether a male reporter would be spoken to in the same way: "I'm sure there's a moment from the event where he called upon a male journalist to explain to 3rd party they're handsome & have a nice smile."
'Can't women take compliments anymore?'
In contrast, many also defended Mr Trump's remarks as complimentary: "Can't women take compliments anymore?" asked one Twitter user.
Another posted: "So any man that says you're beautiful & you have a nice smile is a creep? I normally take that as a compliment."
While one Twitter user asked: "Why can't men compliment females without being deplored? It's just being nice."
'I must have caught his eye'
Ms Perry has described the exchange as 'bizarre' in a 25-second clip posted by the reporter on Twitter. It begins with Mr Trump mentioning the number of Irish reporters present.
"Well we have a lot of your Irish press watching us right now. "He says. "We have all of this beautiful Irish press here."
The president then points to Ms Perry and beckons her over: "Come here, come here, where are you from?"
"RTE news, Caitriona Perry." she replies.
"She has a nice smile on her face so I bet she treats you well," the president tells Mr Varadkar on the phone, as Ms Perry laughs and returns to her seat.
You might also like:
In an article by RTE the reporter described what happened: "Usually we would shoot from outside the window of the White House and that's what we were expecting today but instead we were invited inside to witness the President's call to the Taoiseach. When we went in he was already on the phone but I must have caught his eye and he called me over."
By the BBC's UGC and Social News team
You can follow BBC Trending on Twitter @BBCtrending, and find us on Facebook. All our stories are at bbc.com/trending.