Jacob Rees-Mogg: The Conservative MP who's an unlikely social media star
By Hannah Henderson
BBC Trending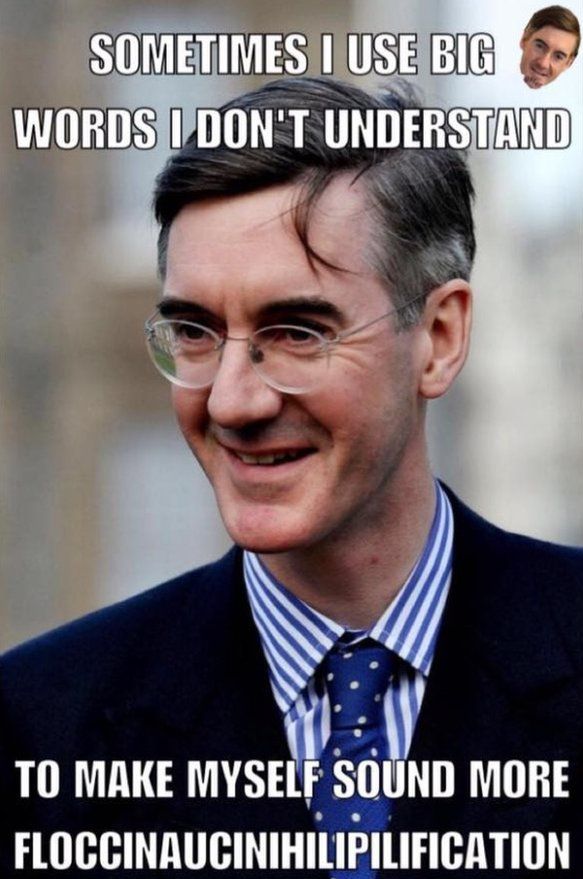 An eccentric Eton and Oxford-educated Conservative backbencher, well known in Westminster for his unique oratory and sardonic put downs, has become an unlikely cult figure on social media - sparking rumours of an outsider party leadership bid.
Social media cults of personality are common on the left of British politics - think of Corbynistas or the Milifandom. So it should be no surprise that young right-wing activists have been seeking their own social media star. And they seem to have found one in Conservative MP Jacob Rees-Mogg.
Not only are dozens of Facebook pages devoted to Rees-Mogg - the biggest have tens of thousands of likes - but after recently joining Instagram, Rees-Mogg's quips about his life on the campaign trail have built up a huge online following. He's now more popular on Instagram than the personal account of Prime Minister Theresa May.
"I am a late convert to social media and it's turned out to be great fun," Rees-Mogg tells BBC Trending. "We've put up some jolly photographs. You hear a lot about unpleasantness but it's reassuring that there is a lighter touch."
The MP admits that he is surprised by his newfound popularity.
Mogg Memes and Mogg Mania
On Facebook, thousands of people have joined public groups which satirise or support Rees-Mogg.
The "Middle Class Memes for Rees-Moggian Teens" is one of the largest, with more than 30,000 followers. It posts daily updates offering a satirical take on the day's news. Its 16 moderators range in age from 16 to 20 and are spread across the UK and Canada.
In addition to celebrating Rees-Mogg, the page includes scathing memes about Labour Party leader Jeremy Corbyn and other politicians. But, speaking to BBC Trending, the group's moderators insist that their main purpose is humour rather than serious politics.
"We only wish to create satire to make people laugh and engage in politics, and if we make a few more conservative voters on the way that would be a bonus," they say. "We believe Mogg appeals because he is the embodiment of traditional British values. It also helps that he is a bit eccentric as this helps us create a slightly satirical image."
In a somewhat bizarre episode, one of the Rees-Mogg-themed groups used their page to call out an online scam artist. The parody account "The Church of Mogg" was approached by a man who claimed to be a Nigerian prince who said he had "worshipped" the Conservative MP "for centuries".
It was an obvious scam, so one of the moderators behind the account engaged the man in conversation. The "prince" asked for an airline ticket and spending money, which the "church" agreed to provide, as long as he sent a bunch of embarrassing pictures.
"It's an extremely funny alternative to those inheritance letters you get promising you money," Rees-Mogg quipped when told the story by BBC Trending.
"But I suppose I should add that as an ardent follower of the real church, I'm not sure the church would really approve of me setting up my own church in the first place," he says.
Many of these Facebook groups have a more serious purpose - namely to persuade Rees-Mogg to stand for leader of the Conservative Party.
Sam Frost is a young Conservative activist from London who set up the Facebook page "Ready for Rees Mogg" after the recent General Election.
He told BBC Trending that what started as a fun group to share memes quickly spiralled into a significant young Tory movement.
"The general election wasn't exciting because Theresa May didn't give people something to believe in," he says.
"My Facebook group got 1,000 likes overnight, and I reached out to other young Conservative activists and we decided to create a website, where people could sign a petition to say they were ready to support Jacob Rees-Mogg when he launches a leadership bid."
"In a matter of days we had gathered more than 10,000 signatures. I was surprised because although there were large numbers from the South of England, there were a lot more than I expected from the North and Scotland."
"There are too many wish-washy politicians in Westminster, I think people like Jacob because he has a rare ability to explain complex issues and he's not afraid to say what he thinks," Frost says.
Unfortunately, it appears that these young activists will be disappointed.
"I am fully supporting Mrs May," Rees-Mogg says. "This is all light-hearted banter but it would be a mistake to let it go to one's head."
Reporting by Hannah Henderson