'CNN wrestling' tweet came from extreme Reddit user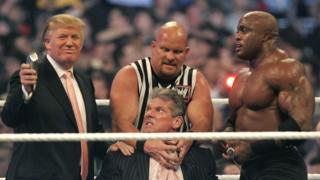 The "CNN beating" video posted by US President Donald Trump came from a Reddit account with a history of posting racial slurs and calls for violence against Muslims.
On Sunday, President Trump tweeted a short video showing himself wrestling a man with a CNN logo superimposed on his head. It's an altered version of a famous World Wrestling Entertainment (WWE) appearance by Trump from 2007 - where he took on wrestling royalty Vince McMahon.
Donald Trump posts video 'beating' CNN
Why CNN 'assault' tweet should surprise no-one
It's not known exactly how Trump found the video, but it was posted Wednesday on a section of Reddit (or "subreddit") called r/The_Donald. It has more than 440,000 subscribers and describes itself as "a forum for serious supporters of President Trump", and "not politically correct".
It's also been associated with the alt-right - a disparate group of conservatives opposed to political correctness and which includes strains of white nationalism.
The creator of the video goes by a crude username we can't repeat in good taste - so we'll just remove the expletive in the middle, and call him "HanSolo". In previous posts he described himself as being 37 years old and from Tennessee. He has posted a huge number of messages with anti-Semitic, anti-Muslim, and anti-black slurs, including posts encouraging violence.
---
More on this story
Trump's shock troops: Who are the 'alt-right'?
America's extremist battle: antifa v alt-right
---
For example, Trending found a thread from 8 May where HanSolo repeatedly uses a racial slur during a heated exchange with a black man on another subreddit. It's one of many posts which feature such slurs.
In another, HanSolo posted a meme showing CNN employees, each with a Star of David next to their head.
In a number of posts, HanSolo also called for the mass murder of Muslims - in some cases encouraging or celebrating attacks using vehicles, guns or nuclear bombs.
When the person behind the account found out that the president had shared his meme, he told his fellow Redditors he was "honored":
But HanSolo also apparently tried to scrub the most potentially offensive messages after the tweet became breaking news - many of his posts were altered or taken down soon after.
Some The_Donald subscribers were enthused by Trump's use of a Reddit meme - and speculated that he may be checking out the group himself.
It's not the first time that alt-right memes have surfaced on Trump's Twitter account. In July 2016, during the US presidential campaign, Trump tweeted a picture of Hillary Clinton superimposed on a pile of money and a Star of David with the words "Most Corrupt Candidate Ever!". The picture was traced to an extreme message board.
Blog by Alex Dackevych
You can follow BBC Trending on Twitter @BBCtrending, and find us on Facebook.