The battle over Trump's Hollywood star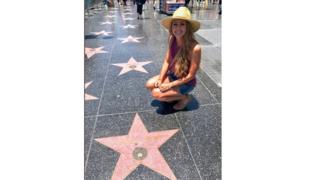 A young woman's viral tweet about cleaning Donald Trump's star on the Hollywood Walk of Fame earned praise from the president's supporters - but spawned a different very reaction from those who shared mocking images of themselves pledging allegiance to people they say would make better leaders.
It all started when 20-year-old university student Makenna Greenwald, who was visiting Hollywood Boulevard in Los Angeles last week, decided to pull out some make-up wipes from her bag and clean the much-vandalised star commemorating the entertainment career of the 45th president of the United States. Like many millennials, she documented her act of altruism on social media with a series of photos and the words:
"Stopped to clean @realDonaldTrump Hollywood Star. Nothing but respect for MY President. #RaisedRight"
Greenwald's tweet has been shared more than 53,000 times and caught the attention of high-profile conservatives, including the president's son and Fox News presenter Sean Hannity.
Greenwald's hashtag #RaisedRight has been used more than 140,000 times since her original post last week.
The president's star has been the target of much tampering since he announced he was running for office. Last year, an artist placed a miniature wall around it, a reference to Trump's promise to build a massive barrier on the border between the US and Mexico. In October, a man dressed as a construction worker used a sledgehammer to smash the star. He was charged with vandalism. Then, in June this year, the star was covered with stickers during a protest.
So while Makenna Greenwald's gesture to clean up Trump's damaged star pleased the president's supporters, it also prompted a huge and often mocking reaction from Trump's opponents on Twitter.
A tweeter with the handle @jake__stubbs kicked off the trend by mimicking Greenwald's pose next to Meryl Streep's Walk of Fame star. His tweet received 90,000 retweets - more than Greenwald's original photos.
Others soon followed. Some hailed fictional characters or pop stars as their would-be leaders.
Others took a swipe at President's Trump's policies, including the controversial bid to replace the Affordable Care Act (or Obamacare).
In an interview with Fox News on Monday, Greenwald said: "I think that we should have more respect from both sides of the aisle, and I was blown away by how much disrespect that I got, how rude people were to me, for a simple act of cleaning up our president, who is the highest office of the land.
"He should be respected, whether it's his Hollywood star or just talking about him in public."
Blog by Megha Mohan
You can find BBC Trending on Facebook or follow us on Twitter @BBCtrending. All our stories are at bbc.com/trending.