Lebanese woman digs up son's grave for refugee nobody would bury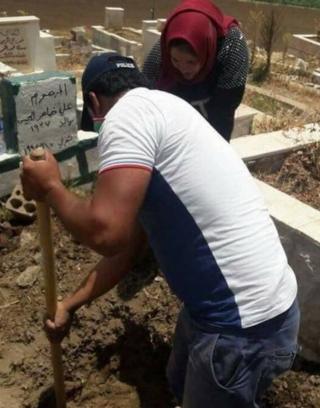 A woman in Lebanon has been photographed digging up her son's grave to provide burial space for a Syrian boy killed in a fire at a refugee camp.
The pictures of the woman were posted on Facebook on 3 July and have been widely shared on social media. Lebanese news sites and the Facebook page of Refugees Without Borders claim the images to be genuine, although the BBC could not independently verify this.
Refugees Without Borders shared the images with the post: "Lebanese woman opens the grave of her son , who died a year ago and buried a Syrian boy who died yesterday due to the fire that broke out at a refugee camp in the Bekaa Valley, after all villages refused to bury him in their tombs."
You might also like:
There are more than 1.5 million Syrian refugees in Lebanon, many of whom, displaced by more than six years of fighting in their own country, live in makeshift camps dotted around Lebanon.
Although it is not clear why the local graveyards refused to bury the boy, who local news reports said was two years old, cemeteries are typically reserved for Lebanese nationals. Many municipalities in the country have also issued restrictions preventing the burial of Syrian refugees in their often overcrowded cemeteries.
Many Syrians shared the images, praising the Lebanese woman at a time when feelings of anger at the Lebanese army and security forces are growing.
But there was also outrage at the treatment of Syrian refugees.
"Has it really come to this, they even refuse the dead? Are they human?" One Facebook user asked underneath the shared photographs.
Another Facebook user posted: "For 20 years during the [Lebanese civil] war, Syria hosted Lebanese, and today no father can bury his child here."
A separate post condemned the treatment of Syrian refugees as racism: "This woman deserves all the respect and appreciation. Shame on those who refused to bury the child. This is the dark side of racism in Lebanon against Syrian refugees."
Anti-refugee rhetoric
A series of suicide attacks in the northeastern Lebanese border village of Al Qaa in June 2016 triggered a spike in anti-Syrian sentiment. Since the blasts the Lebanese authorities have imposed curfews on Syrian refugees in some areas and raided refugee camps, citing security concerns.
Part of the hostility stems from the resentment of refugees' perceived preferential treatment by non-government organisations in the distribution of aid and access to public services.
The Syrian opposition has strongly condemned what it called attacks by the Lebanese armed forces on Syrian refugees camps. An attack in Arsal in Lebanon took place last week and resulted in the death of a number of refugees and the detention of hundreds more.
By the UGC and Social News team; Additional reporting by BBC Monitoring
You can follow BBC Trending on Twitter @BBCtrending, and find us on Facebook. All our stories are at bbc.com/trending.