Social media users imagine Trump and Putin's meeting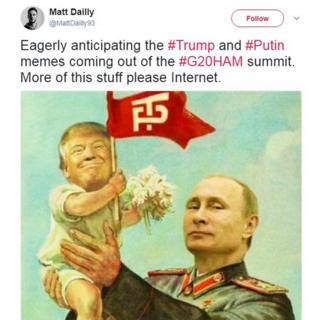 Social media users have been imagining how the encounter between the US and Russian Presidents may go when they meet at the G20 summit in Hamburg today.
On Twitter users posted jokes and photoshopped pictures ahead of the discussion between two of the most powerful leaders in the world.
Today's meeting has been preceded by months of speculation about a "bromance" between the two leaders. It was fuelled by allegations of Russian interference in last year's US election, and the perception Russia strongly favoured Mr Trump over Democratic candidate Hillary Clinton.
In particular, critics of the relationship between the two men have, ahead of the meeting, shared images of Mr Putin manipulating Mr Trump.
When the two men did appear before the cameras in Hamburg, there was a handshake and smiles. Mr Trump told reporters the pair discussed "various things" and talks were going "very well".
You might also like:
This mock up of the two leaders kissing was widely shared, suggesting, despite their differences on the crises in Syria and Ukraine, the two have a mutual understanding and affection for one another.
Vladimir Putin has been fairly guarded about his views on President Trump. His most recent comment on his US counterpart was in June, where he described Trump as a "direct and open" person, who has a "fresh view".
Mr Trump has said equally favourable things about his Russian counterpart although more recently he has been more reserved.
The opening of the G20 summit was marred by protests in which 76 police officers have been injured.
By the UGC and Social News team
You can follow BBC Trending on Twitter @BBCtrending, and find us on Facebook. All our stories are at bbc.com/trending.