Why are some Muslims spreading rumours they don't eat doughnuts?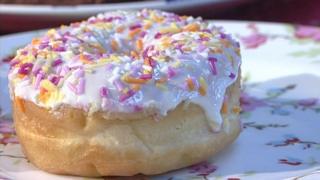 A false rumour Muslims do not eat doughnuts is being re-circulated on social media by members of the Muslim community, in a humorous response to Islamaphobic taunts.
One of the earliest social media tongue-in-cheek claims about doughnuts not being halal appeared on Twitter in 2014, and for the past three years there has been a slow but consistent trickle of the same claim.
In January 2016 a similar joke was tweeted after several incidents of pork, which Muslims are not permitted to eat or touch, being left outside mosques.
In 2012 a spate of pig's remains were placed outside mosques in Malaysia and in April 2015 pigs heads were placed outside a building in Solihull, UK, after claims it was being used illegally by Muslims for worship. In 2016 a man was charged after bacon sandwiches were thrown at a mosque in Bristol.
Although the tweets were intended as a joke it seems some people were left confused. One Twitter user posted: "Just asking. How are they haram?"
More tweets insisting doughnuts were forbidden in Islam followed, as did the curiosity by some non-Muslims about why. As a reply to yet another joke tweet said: "Oh no, that's not fair."
You might also like:
In early 2016 Reddit users discussed the rumour after a screen shot of a joke tweet by journalist Murtaza Hussain was posted on the network's r/Islam subreddit.
In response one user posted: "I hate kebabs, guys! Please don't send kebabs to our mosques, specifically them really big ones on a stick mixed with those juicy grilled seasonings in them!"
A further comment suggested: "Glazed donuts are the worst, and they are completely unforgivable if encountered still warm in groups of twelve."
Another mocked up a local news report with photoshopped imagery of doughnuts being thrown at a school.
Lord of the (glazed) ring
Parody Facebook account Mordor First shared its own variation of the the doughnut joke at the end of 2016. It created an image purporting to show a doughnut iced with Black Speech (devised by Sauron from the Elvish alphabet) from Lord Of The Rings, but referred to as "muslamic writing".
It has been shared more than 11,000 times, but we cannot differentiate how many people believed the claim, and how many were in on the joke.
This year the doughnut rumour has resurfaced with journalist Mehdi Hasan being one of the many to tweet the joke.
"I have long believed we Muslims should spread rumours that we think donuts are haram so that we get attacked with those instead." he posted on June 30.
And the same tweet by Hussain which prompted the Reddit jokes has drawn more than 6,000 reactions in the past week on a Muslim Facebook group as users suggested other items which may or may not be forbidden.
"I hate Starbucks... Takis... Pizza... Cookie Dough (the one you can eat raw)... Twix... iPhones... PlayStation 4... Chanel... And I can't stand Chipotle, please insult me with these items!" requested one reply.
By the UGC and Social News team
You can follow BBC Trending on Twitter @BBCtrending, and find us on Facebook. All our stories are at bbc.com/trending.