Vladimir Putin: The president who wasn't there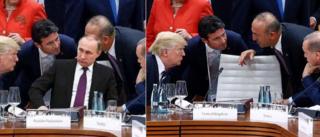 A photoshopped image of the recent G20 summit has been circulating on social media.
It shows Vladimir Putin seated behind a Russian Federation placename, surrounded by Donald Trump, Recip Tayyip Erdogan and Angel Merkel appearing to hang on his every word.
Angela Merkel is shown wearing the Ribbon of St George, a Russian military symbol.
But in reality the Turkish and American leaders were talking over an empty chair at the UK's place at the table and the German Chancellor was not wearing any ribbon.
The photo was taken by Kayhan Ozer for Getty images on 7 July.
Where did it come from?
It was not long before the photoshopped image started being shared.
Russian Instagram account Goblin Oper - a man called Dmitry Puchkov known for translating pirated films into very informal, rough Russian - first shared the image on 8 July.
It was picked up by Vladimir Soloviev, a staunchly pro-Kremlin TV host, who posted it on Facebook with the comment: "better than a thousand words," but has since removed the picture.
Opposition activist Ilya Yashin criticised Mr Soloviev for tweeting the image, saying: "After this, Trump would call Soloviev Mr Fake News. This former journalist has a talent for putting his foot into his mouth in a spectacular way."
Mr Soloviev wasn't alone in sharing the image at face value.
Pro-Kremlin activist Ilias Merkouri tweeted the image to his 162,000 followers with the caption "The scale of personality".
Sergey Markov, a former MP and supporter of President Putin, also picked it up, speaking ironically about "Russia's isolation" in a Facebook post, now deleted.
Just a joke?
It wasn't long before the altered image crossed over into English-speaking social media:
Parker Molloy's tweet combining the image with the lyrics of Summer Nights from Grease was shared around 24,000 times
User @HasAvrat tweeted the image with the caption "A Renaissance painting of our age".
This received around 14,000 shares and several replies including unbelievable photoshops and alternative occupants of the UK's seat such as Ivanka Trump, who held her father's seat at a summit of world leaders during the G20, and Chris Christie, the New Jersey governor criticised for using a state beach he had closed to the public.
You might like:
Other users were quick to point out to both posters the image wasn't real. "Good to know" Parker Molloy replied and explained in later tweets "I made it clear that this was an edited picture," and "people seem to think I was trying to pass it off as real, so I deleted it".
Has Avrat responded: "Y'all going to have to get used to the use of memes, photoshop, GIF's etc as part of political satire."
Perhaps this episode is an illustration of Poe's Law of the internet. That if a post isn't clearly signposted as being a joke there will always be someone who takes it seriously.
By the UGC and Social News team. Additional reporting by BBC Monitoring's Vitaliy Shevchenko