Iran recalls 1999 and Algeria ponders 'No'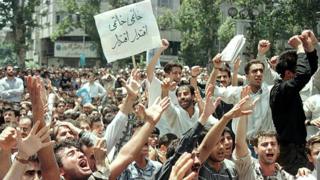 The hashtag #18Tir is being used by Iranians to mark the anniversary of the July 1999 Student Protests, while Twitter in Algeria debates whether official documents should be written in French.
On 9 July that year police and right-wing vigilantes stormed a Tehran University dormitory which students were occupying to protest against the banning of the pro-reform Salam newspaper.
Riots followed in Tehran and Tabriz, and students were beaten and detained by police and hardliners. At least five students were reportedly killed.
Although Ayatollah Khamenei condemned the raid, the main perpetrators went unpunished.
Pro-reform cleric Abolfazl Najafi-Tehrani tweeted: "18 Tir [9 July] is a bitter day. It is the turning point of the students' movement and the day when students were unfairly beaten up by inwardly blind plainclothesmen"
The hashtag has been used nearly 9,000 times in the past two days, peaking around Sunday afternoon.
How the BBC reported the protests in 1999:
Twitter is officially blocked in Iran but people use Virtual Private Networks to bypass the filtering.
In 2009, protests against the re-election of Mahmoud Ahmadinejad saw social media in Iran used as a platform of organisation.
Despite warning from the authorities many people still use Twitter. Ironically, Iranian officials, including the Supreme Leader, the president, and ministers are active on it.
You might like:
Many tweets mentioned Saeed Zeinali, a student who was arrested at his house during the unrest and is still missing 18 years later.
"18 years of waiting is hard," tweeted London-based activist Mostafa Mohamadi.
---
Algeria: #No_to_French
Algerian Twitter users are expressing their opposition to the use of French on official documentation using the hashtag #No_to_French_on_official_documents.
The hashtag has been used nearly 12,000 times since 10 July, including more than 4,000 tweets in four hours on Monday. This is a large level of interaction in Algeria, which has a fairly small number of Twitter users compared to Facebook, the country's main social media platform.
French is not an official language of the country but is used frequently in government and in the media, given its history as a colony of France.
The other major language of Algeria is Berber.
"When the national anthem was written in blood, it wasn't written in the language of the occupier," tweeted @ALG0202
Other users echoed this sentiment. "The first official language is Arabic, whether you like it or not," wrote another user.
The question is: "Does France use Arabic in its official documents?!" asked @Thewolf_eye73.
Meanwhile, @Love_Dido_Love was positive about all languages, French, Arabic and Tamazight (Berber).
However, many in Algeria have been questioning the worth of the issue. "As if this was our biggest problem," tweeted one person.
By the UGC and Social News team; Additional reporting by BBC Monitoring