'Rooney to China'?: The real impact of fake football news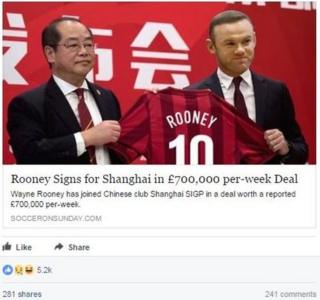 Dubiously sourced rumours about football transfers spread wildly on social media, and while experts say they don't usually affect where players end up, they can put pressure on clubs and move betting markets.
It's a type of story that long pre-dates the current mania about "fake news". Transfer rumours have long dominated the back pages of newspapers during the summer transfer window, and many commentators view such stories as pure speculation. Take, for instance, Match of the Day presenter and former England player Gary Lineker who recently tweeted: "90% of transfer stories are guesswork in the hope of getting lucky."
But just like in many other areas of the media and entertainment industries, social media is changing the game when it comes to transfer rumours - in this case allowing fake stories to spread wider and faster than ever before.
To take one example, as speculation surged recently around the impending transfer of Wayne Rooney, a satirical story was posted on a popular Facebook group, "Manchester United Dream Team Forever", which has more than 550,000 members.
The story was created by a humour website, "Soccer on Saturday". Most who clicked on it would have picked up on the satire right away - the story was packed with jokes about Chinese politics, Rooney's hairline, his recent form and much else besides.
However, when viewed on Facebook, the article could easily be mistake for a legitimate news headline. It features a Photoshopped image of Rooney standing with a club official, holding a Shanghai shirt with his name and number printed on the back and the headline "Rooney Signs for Shanghai in £700,000 per week Deal".
It's unclear how many people clicked beyond the headline and noticed the jokes and fictitious quotes in the actual story, and of course any misapprehension was quashed when Rooney signed for Everton, his boyhood team. But can fake headlines impact the transfer market while negotiations between clubs are ongoing?
Raffaele Pilo, Head of CIES Football Observatory based in Switzerland, investigates the value of football players. He tells BBC Trending radio that individuals involved in transfer negotiations have an incentive to encourage rumours, regardless of whether they're accurate or not.
"Sometimes, spreading rumours gives an indication that a player is on the market… or if there is a negotiation, it puts pressure on the buying club," Pilo says.
In this vein, players themselves often fuel speculation by posting subtle - or not-so-subtle - hints on social media, possibly in an effort to increase their value.
Wayne Farry, a sports writer for the website JOE.co.uk, says that players are increasingly using their big social media followings to influence transfers. One example from this summer has been Kylian Mbappe, a young Monaco striker who's been linked with moves to Real Madrid, Arsenal and Liverpool. Mbappe recently changed his Twitter header to a photo showing him celebrating a goal in front of an advertising hoarding with the word "Priceless" written on it:
It was a change that, perhaps predictably, fuelled tremendous speculation online. The striker's name has been mentioned more than 800,000 times on Twitter in the last month.
"Even if there had not been any bids, that level of [online] interest would have pushed the hand of the club to have to do something," Farry says. "You either sell and grant the player his move, or you increase his contract."
Rumours also have an impact beyond contracts and transfer fees. Farry says the whispers can have a big effect on betting markets, where punters can gamble on which club a player or manager moves to next.
For instance in June, Spanish-born manager and former Real Madrid defender Fernando Hierro became an unlikely favourite for the vacant Leeds United managerial position, largely due to social media. On 13 June, a Twitter user messaged betting company Sky Bet, asking for Hierro to be added to the Leeds United manager betting market. Sky obliged, and listed Hierro's odds at 33/1.
After seeing Hierro's name appear on the list, many punters began to bet on his appointment, and social media speculation was rampant. This process drove down his odds, which eventually reached 2/1 - leading some publications to label Hierro a favourite for the job.
Farry says he's observed this same process several times. When a potential manager is added to a betting list, Ferry says, people often assume that the betting company has some sort of inside information. Twitter speculation can drive a surge of bets, which can drive down the odds of the new candidate - which generates further rumours that they might be in line for the job.
In the case of Hierro, the fan who requested the bet had no inside knowledge. He later stated on Twitter:
And, as it turns out, all the speculation was wrong. Former Barcelona player Thomas Christiansen has since been appointed as Leeds manager, leaving Hierro punters without a payout.
Reporting by Anisa Subedar
Blog by Sam Bright
You can follow BBC Trending on Twitter @BBCtrending, and find us on Facebook.