Putin's mystery passenger sends the internet into a frenzy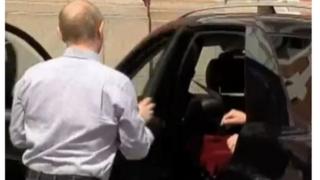 Russian social media has been abuzz with discussions of President Putin's "mysterious passenger".
Military TV channel Zvezda has shown a video of Putin at a sacred monastery in Valaam, Russia, opening a car door for a passenger with what looks like a red bag or dress.
The president then quickly shuts the door, and so the passenger is not revealed.
People have been inventing theories as to the identity of the person.
Lady in red?
A spoof account posted its own version of a mysterious lady - the red priestess from The Game of Thrones - who encouraged the character Stannis Baratheon to pursue the throne at all costs.
"It's time he sacrificed a daughter now," one commenter joked alluding to the show's plotline.
You might like:
Another user speculated it was Donald Trump's daughter Ivanka.
Popular blogger Nezygar has posted a poll on Telegram, asking who users thought was in the car with President Putin.
The results were:
Another telegram user suggested it might be the Russian spy Anna Chapman.
Mystery unsolved
Putin's spokesman Dmitry Peskov has dismissed the rumours saying that it was a member of Putin's security.
Online users, however, have taken the explanation with a pinch of salt: "Yeah, right - it was somebody from security. Because Putin always opens doors to his security guards," Mikhail Kozhukhov said on Facebook His comment was liked 199 times.
A close look at the video shows that rather than a red dress, the passenger has a red bag on their lap.
Telegram channel Nomenklatura offered one theory: "Putin opened the door to grab his jacket. But the jacket was already taken, that's what the guard who was sat in the car showed him. We can see that a security officer in front of the car is holding Putin's jacket. He was sitting in the front."
Private Putin
The volume of speculation shows the tremendous interest in Mr Putin's private life.
Reporting on Putin's family has been virtually taboo in Russia. The president has always kept his personal life under a veil of secrecy.
Ex-gymnast and politician Alina Kabayeva is rumoured to have been romantically linked to the president for years, but it has never been confirmed.
At a recent annual phone-in, Putin said that he wanted his grandchildren to grow up away from the glare of publicity:
"Regarding my grandchildren, one is already in nursery school. Please understand, I don't want them to grow up like some kind of royal princes. I want them to grow up like normal people."
"For this they need to be in normal, average company among other children. If I now said something about their name and age, they will immediately be identified, and will never have any peace. This damages the child's development."
By UGC & Social News team, with additional reporting by BBC Monitoring