A man dresses as his dead sister to help his grieving mum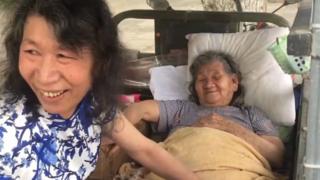 A video about a man in his fifties who has been dressing as a woman for 20 years "to help his mentally ill mum cope with the death of his sister" is being widely shared on Chinese social media.
Pear Video's film about the unnamed man has received over 4.2 million views on Weibo alone and is also being shared by major news portals.
The video shows the man from Guilin in the Guangxi region, tending to his elderly mother whilst wearing a traditional cheongsam dress.
He told Pear Video that he started dressing as a woman after his mother began to show signs of mental illness following the death of her daughter.
He added that his mother was immediately convinced that her daughter had come back.
"She was so happy, so I kept doing it," he said.
"I've basically been living as a woman ever since," he added. "I don't own any men's clothing."
In the video his mother refers to her son saying: "She is my daughter. When my other daughter died she became my daughter."
The man said he is not concerned about what people think because he is "doing it for his mother".
"Why would I be afraid of people laughing at me?" he added.
Thousands have responded to the posts on Sina Weibo with many using the hashtag #HePosedAsHisDeadSisterFor20Years#
Some posters praised the man saying it made them "very moved" and that the son's behaviour is "truly filial".
"To make his mother happy, he dressed as a woman for 20 years. It doesn't matter how you view this, you have to praise this man for his filial piety!" one user commented.
"This is a real man" another user writes.
"I think he looks pretty as a woman," one remarks beneath the video.
You might like:
But other users were more critical.
One says that the "mother has been successful in controlling her son" and another asks "is this filial piety or is he looking for an excuse to be a transvestite?".
"Has this mother not asked where her son has got to?" asks another user.
Filial piety
Respect towards parents, elders and ancestors is considered a key value in Chinese society and culture, and is commonly the subject of debate on Chinese social media.
The concept goes back to 400 BC and is a core virtue of Confucianism, described in the early works of China's best-known philosopher.
Filial piety was one of the main criteria for the selection of officials as early as the Han Dynasty (from 206 BC to AD 220).
"You should be filial, but to this extent, it's going to be hard for people to match," one user concluded.
by UGC and Social News team. Additional reporting by BBC Monitoring.