Dan Hannan: Ribbed with rambling tweets
By Patrick Evans
BBC News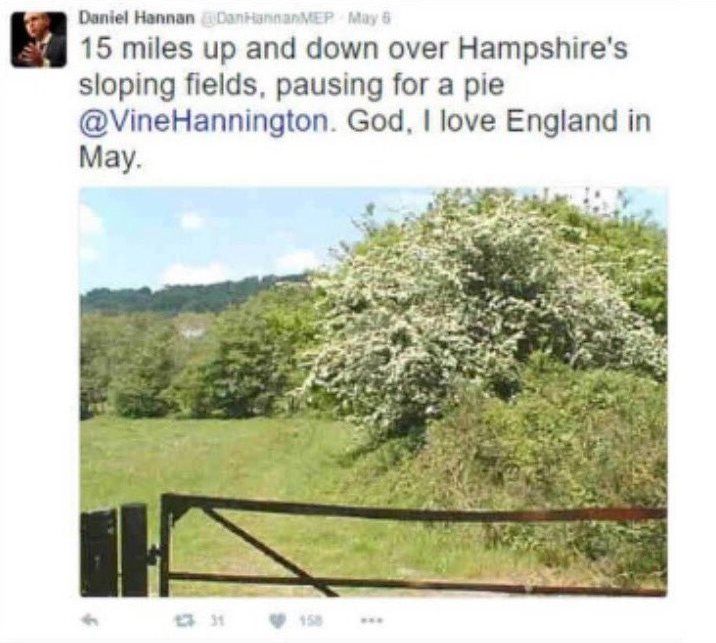 Conservative MEP Daniel Hannan has been mocked on social media this week with imaginary countryside rambles.
In May 2016 the Twitter account @DanHannanMEP posted: "15 miles up and down over Hampshire's sloping fields, pausing for a pie @vinehannington. God, I love England in May."
Alongside the words were an image of what was supposedly the Hampshire countryside. There was one problem: The photo he shared was taken in Glamorgan, Wales in 1998 by photographer John Ball.
Mr Ball told the BBC he was made aware of the "misuse" of the photograph a few days after the tweet in May 2016, and it was originally used in the Images of Wales feature on his website 18 years before.
The @DanHannanMEP account was suspended later in 2016, and evidence of the tweet exists only in screengrabs and reposts.
Although the erroneous photograph was tweeted over a year ago, and the blog Zelo Street interviewed Mr Ball in October 2016, it caught people's attention again this week and they have been keen to let Mr Hannan know of their imaginary walks.
And David Griffiths shared an alternative view of the Severn Tunnel (actually Barcelona Aquarium).
Things took a surreal turn with Alan Graham tweeting a dramatic view of Plymouth (mistaken with an illustration of HP Lovecraft's Cthulhu rising from the depths).
Author, Mark Haddon weighed in with this busy view from Oxfordshire, likely older than "yesterday".
The BBC has approached Daniel Hannan for comment.
A note on Daniel Hannan's Twitter handle:
Daniel Hannan now tweets from @DanielJHannan - this handle is listed as having been on the site since October 2009 but has only been posting since 30 July 2016.
The account @DanHannanMEP was suspended at some point after 6 May 2016.
However, Mr Hannan's official YouTube account lists his Twitter as @DanHannanMEP.
By the UGC & Social News team