Enbo, the orphan 'Fight Club,' divides China online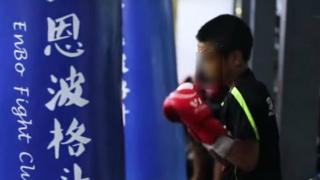 A video about a fighting club for children in southwest Sichuan province in China has ignited discussion on the nation's online message boards.
The short documentary from Pear Video, a popular video site in China, introduces the Enbo Fight Club in the city of Chengdu, which trains more than 400 young fighters - many of whom are orphans - in mixed martial arts (MMA).
The video shows two 12-year-old boys fighting each other in a caged arena surrounded by a crowd. Later in the video, their coach says the club manages the children's money from the fights.
In an interview, the founder of the club says he is sent orphaned and 'left-behind' children by the Civil Affairs Bureau. Children who do not meet the club's high standards are sent back to the care of the state.
Club supervisor Zhu Guanghui confirmed the police were investigating and said the club was cooperating with the authorities, the Beijing Youth Daily reported on Monday.
There are an estimated 61 million 'left-behind' children in China: children from rural areas whose parents have moved cities to work.
Exploitation or opportunity?
The video focuses on two 14-year-old boys, Little Long and Little Wu. Little Long says his father has died and that his mother had "gone". Little Wu was brought to the club by his grandma; both his parents are dead.
"My idol is Conor McGregor, from UFC," says Little Wu.
"Here you have everything," he says of the MMA club. "Food, accommodation and clothes... If I went home, I would probably be doing some labour work, and then working a part-time job."
The video has more than 12 million views on China's popular video-hosting service Miaopai and thousands have commented on the story via the Sina Weibo microblog, where there is lively debate over what the club is doing.
"Learning to fight from a young age offers a way out for the future, I don't think there's anything majorly wrong," says one comment which has been liked more than 2,000 times.
You might like:
Others agree: "Otherwise where would they go? Would they become beggars?" one says.
"They can rely on this to make a living, and eventually become professional athletes." another user adds.
But some people are not convinced that the MMA club has the children's best interest at heart.
"I've never had a good feeling about this; my feeling is it's a form of abuse," one user posted says.
"They should be at school, and yet have entered into the profit-driven world. What's being implanted into them is that the rules of survival means that the winner takes all. This is deplorable; where are the authorities in all this?" another person asks.
By UGC and Social News team. Additonal reporting by BBC Monitoring.