Azadeh Namdari: Backlash over conservative Iranian television host
By Patrick Evans
BBC News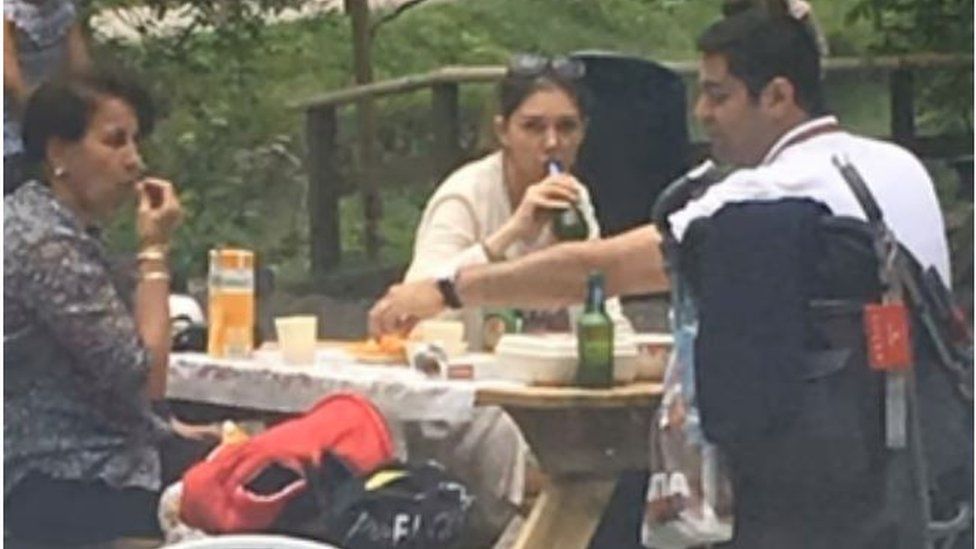 Iranian state television presenter Azadeh Namdari has faced accusations of hypocrisy on social media after a video emerged showing her drinking beer and not wearing her hijab while on holiday in Switzerland.
Alcoholic drinks are banned in Islam and in Iran, where it is the law for women to wear the headscarf.
It is not clear whether the TV presenter was drinking alcoholic or alcohol-free beer.
Namdari is known in Iran as a proponent of the Islamic dress code.
A photo of her in full hijab was once published in the conservative Iranian newspaper Vatan-e Emruz under the headline: "Thank God, I wear the veil".
In response to the revelations, Namdari published another video of herself in which she offered reasons for not wearing a hijab.
The two-minute long video was published by the hardline Young Journalists' Club (YJC) news agency under the headline "Azadeh Namdari's reaction to the publication of scandalous photos in cyberspace".
This time wearing a hijab, she explained she was sitting with family members and "maharem" - close relatives among whom a woman does not need to wear a hijab - in a park. She said her scarf fell suddenly and the video was taken at that instant by an unknown person.
She gave no explanation about drinking beer in the video.
Ideology, culture, system
The explanation brought further criticism from social media users, citing Namdari's "hypocrisy" and "dual-behaviour," and using her name as the Persian hashtag #Azadeh_Namdari.
Since the initial video emerged on 24 July the hashtag has been used over 11,000 times.
Twitter user @merry_8_4 juxtaposed an image of the TV presenter in full hijab alongside two further photos of Namdari without a hijab and while drinking beer: "What she feeds us with versus what she feeds herself with!"
"She does not have the right to encourage people to observe the rules that she herself does not observe," user @sisil4030 tweeted.
A tweet from an account attributed to the pro-government cleric Abolfazl Najafi-Tehrani read: "The problem is not #Azadeh_Namdari or people like her. The problem is the ideology, culture and the system that forces individuals in society to have dual-behaviour for some reasons."
'Taking people for a fool'
However, reactions to the second video were harsher. Users called Namdari a "liar" and a "hypocrite" who tried to fool the people.
The Facebook page Iran Without Clerics addressed Namdari in a post and wrote: "We do not have any problem with you not wearing hijab or drinking beer. Our problem is that you... take the Iranian people for a fool!"
However, there were a few social media users who believed she could wear and do whatever she wants.
"It is her life. It is none of our business," wrote Facebook user Safiye Safiye.
By UGC and Social News team, additional reporting by BBC Monitoring.