Panama Papers: Hashtags and puns as Pakistan PM resigns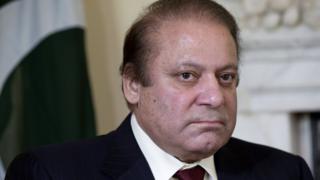 The resignation of Pakistan's Prime Minister Nawaz Sharif has been met with argument among Twitter users in the country.
His resignation followed a decision by the country's Supreme Court to disqualify him from office.
Mr Sharif has consistently denied any wrongdoing in the case.
Soon after the decision the hashtag #PanamaVerdict, started trending with many users celebrating the decision.
"Pakistan has set history for the whole of Muslim world by challenging Executive Authority through an open, transparent due process of law and politics," tweeted well-known journalist Moeed Pirzada.
"Dear World, I am a proud Pakistani coz my PM has been disqualified for corruption. This is the start of a New Pakistan," wrote one opposition supporter.
Some have also changed an earlier well-known hashtag #GoNawazGo into #GoneNawazGone.
You might like:
Many users are speculating about who will be the next prime minister. Opposition party leader and former cricketer Imran Khan, who was a front-runner in demanding an open enquiry into the Panama Papers case, is being named as a top choice among Twitter users.
"And most importantly, thank you Imran Khan for not giving up and believing in justice. This wouldn't have happened without your efforts," wrote pop star Asim Azhar.
Jemima Goldsmith, who was married to Imran Khan from 1995 to 2004, shared her delight about the news with several tweets about the accusations made against her during her life with Khan, such as charges of smuggling antique tiles.
#JusticeDenied
However, many Twitter users were quick to rally in favour of Nawaz Sharif.
#JusticeDenied is the second most-used hashtag in Pakistan.
Sharif supporter Nauman Feroz wrote: "NS [Nawaz Sharif] disqualified, Welcome judicial Martial Law, RIP Democracy"
Another supporter tweeted: "I was, I am and I will be a supporter of Nawaz Sharif".
"Leaders can't be eliminated by court decisions & executive orders. It's only the people who can send someone home or keep him," wrote Zeeshan Malik.
'Sans-Sharif'
The corruption case had dominated social media conversation in Pakistan since the investigation began in April this year.
In July, the term #FontGate was used to poke fun at Nawaz Sharif's daughter, Maryam.
As part of her defence against corruption allegations, Maryam Nawaz produced a document claiming to be from 2006. However, the document had been typed in the Calibri font which wasn't commercially available until 2007.
Of course, after the prime minister's resignation, the fact furore over a font has made Pakistan 'Sans Sharif,' is a joke which has been widely made on Twitter (and explained on Reddit).
By UGC & Social News team. Additional reporting by BBC Monitoring