Who is the Turkmenator and what is a Russian socialite doing at a shipyard?
A video featuring Turkmenistan's president displaying his military prowess has been gaining traction on social media - but not for the reasons you might think.
The country's opposition website Khronika Turkmenistana edited a state TV video of President Kurbanguly Berdymukhamedov demonstrating his shooting skills, but instead of running the video they tweaked the beginning by adding a clip from Arnold Schwarzenegger's action film Commando.
The video - in its edited form - has been watched over 250,000 times in the last 24 hours and has prompted sarcastic comments with some now calling the president the "Turkmenator".
In the state TV clip you can see President Berdymukhamedov - who is also commander-in-chief of the central Asian country's armed forces - firing at a target. The voiceover in the original clip says the president's abilities are "worthy of emulation by military servicemen".
However, not everyone agrees.
One social media user ridiculed him for using a telescopic sight to shoot at the very close target, adding: "He could have peed at the target from that distance".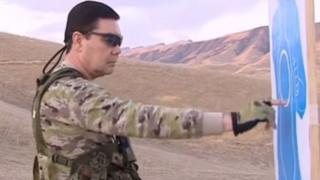 Others branded him a show-off, with one YouTube user commenting: "He hasn't even served [in the army], but behaves as though he knows everything and is capable of everything".
While another suggested the president should be sent to Syria in the hope he might sort out the situation there.
People also saw similarities with the North Korean leader Kim Jong-un and Russia's President Vladimir Putin.
Batyr Zhandarbekov wondered: "Is he a relative of the North Korean leader?"
There were also a few who expressed their approval. "Well done," wrote Sergey Afanasev, adding "He did everything perfectly. He looks well and knows how to handle weapons!"
You might also like
President Berdymukhamedov, who has been the leader of Turkmenistan since 2007, is an autocratic ruler. The country has been branded one of the most repressive states in the world.
Never one to shy away from the public eye, this is not the first time the president has demonstrated his many talents.
In his quest to create a healthy society, he appeared in a fitness training video for his ministers: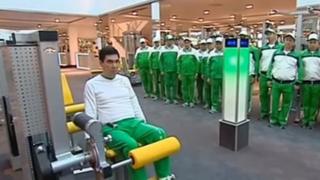 In 2012 he was filmed driving a Bugatti sports car.
In January 2017, the president broke into song while he was visiting a gas chemical complex in Akhal Velayat. Elvis Presley anyone?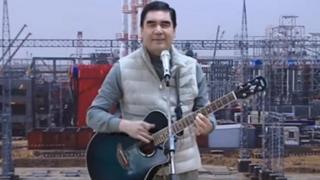 Not a stranger to the arts and literature, the president has also turned his hand to poetry and has written a book on tea.
However, not all of his public displays have gone to plan. He once fell off a horse whilst participating in a race in 2013. But despite tough competition he still won!
Since many users compared Turkmenistan to Russia, and President Berdymukhamedov's activities to President Putin's macho stunts, maybe he should have stuck to a gentle horseback ride, a la Putin?
---
Russian socialite tours shipyard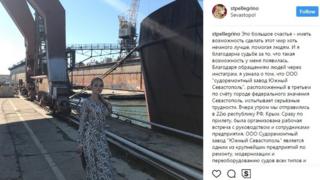 The daughter of President Vladimir Putin's long-serving spokesman has become something of a social media star thanks to her continuous stream of glamorous selfies on Instagram.
So Liza Peskova's decision to visit a run-down shipyard in the disputed territory of Crimea was bound to cause a splash.
Images of Ms Peskova - immaculately dressed - touring the drab, industrial surroundings drew a lot of attention, and a fair amount of mockery, on Russian social media.
In a recent post she said she had been informed that the yard in Sevastopol was experiencing serious difficulties, and had decided to visit at the request of staff.
She had recently told her more than 50,000 followers of the "great happiness" it brings her to "have the opportunity to at least slightly improve the world by helping people".
During the visit, she reportedly discussed staffing problems at the yard, and the need to attract younger people to the ship-building industry.
"I am impressed by the diversity of nature, the beauty of the souls of people worried about their enterprise and the uniqueness of the geographical location of the region," she wrote.
But not everyone seemed impressed by her interest in the shipping industry.
One Twitter user said: "The circus with 19-year-old daughter of Peskova, summoned from Paris to solve the problems of a ship-building yard, is a cynical mockery by the Kremlin over the people."
Popular blogger Rustem Adagamov tweeted: "Peskova is solving the problems of the Sevastopol ship-building yard in a dress created by a fashion house in Grozny".
Others wondered why she was sent to help the plant. "Is there no-one in Russia, apart from Peskova's daughter, to send to the ship-building yard in Crimea? The nepotism in power circles is driving me nuts," wrote another commentator.
Written by the BBC UGC and Social News team, with additional reporting by Dilmurad Avalbaev and Yaroslava Kiryukhina, BBC Monitoring.