Louise Linton: The photo, the hashtags and the sarcasm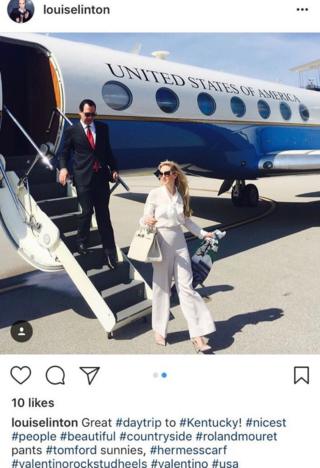 It's commonplace to post photos of trips and special occasions on social media, but as the actress Louise Linton found out, people didn't respond well to the hashtags she used in one of her posts.
Ms Linton, an Edinburgh-born actress who is married to the US Treasury Secretary Steve Mnuchin, posted on her Instagram account a photo of her and her husband disembarking a US Air Force jet in Kentucky, adding various hashtags of the designer labels she was wearing.
The post has since been made private, along with Louise Linton's Twitter account.
A Treasury Department official told the New York Times the Mnuchins reimbursed the government for the trip and that Ms Linton was not compensated by any of the labels she promoted with hashtags.
But it was not just the hashtags that created a storm - it was also her response to one person in particular that struck many. Writer Ali Yashar's post caught the Instagram comments in Ms Linton's post before it was blocked:
Jenni Miller commented on Ms Linton's post: "Glad we could pay for your little getaway. #deplorable." To which Louise Linton responded:
"Did you think this was a personal trip? Have you given more to the economy than me and my husband? Either as an individual earner in taxes or in self sacrifice to your country?"
She went on to say Ms Miller was "adorably out of touch" and thanked her for the "passive aggressive nasty comment." Ms Linton then called her mad but said: "Deep down you're really nice and so am I."
You might also like:
Ms Linton has since changed her public Instagram account to a private one, but not before her remarks were posted thousands of times on Twitter.
Her post received some criticism, including one tweet - that has an offensive word - from former UK MP Louise Mensch, and others from former director of US Office of Government Ethics, Walter Shaub who adds: "The little people your wife mocks are paying the bills with blood, sweat and tears."
Some have been calling her out on her "sacrifices", as seen in this tweet by Alice Potenza whose partner fought in the Gulf War.
Having trained at the London Academy of Music and Dramatic Arts before moving to the US, appearing in films such as Lions for Lambs and Cabin Fever, Ms Linton is used to the limelight.
This is also not the first time she has courted controversy. In July 2016, she published a memoir of her experiences volunteering in Zambia during her gap year, which provoked a huge online backlash as reviews and comments accused her of being patronising and inaccurate.