Far-right smear campaign against Antifa exposed by Bellingcat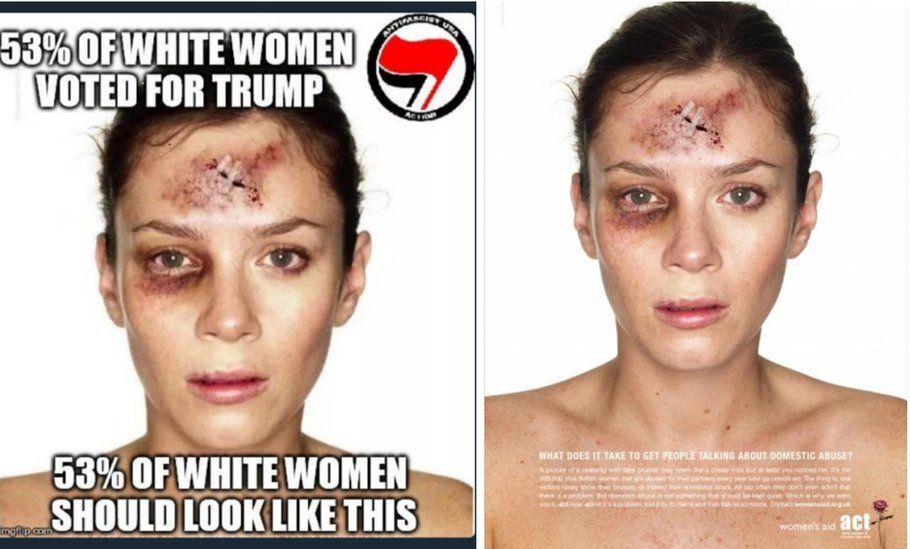 Far-right activists are using fake Twitter accounts and images of battered women to smear anti-fascist groups in the US, an online investigation has revealed.
The online campaign is using fake Antifa (an umbrella term for anti-fascist protestors) Twitter accounts to claim anti-fascists promote physically abusing women who support US President Donald Trump or white supremacy.
Researcher Eliot Higgins of website Bellingcat found evidence that the campaign is being orchestrated on internet messageboard 4Chan by far-right sympathisers.
One image shows the slogan "53% of white women voted for Trump, 53% of white women should look like this", above a photograph of a woman with a bruised and cut face and an anti-fascist symbol.
The woman pictured is actually British actress Anna Friel and the photograph was taken for a Women's Aid anti-domestic violence campaign in 2007.
The images first started circulating on social media late on 23 August with hashtags #PunchNazis, #MakeRacistsAfraidAgain and #BashTheFash.
Accounts appearing to belong to anti-fascist groups tweeted the memes, calling on activists to physically attack women who voted for Trump.
Prominent far-right individuals such as Joseph Paul Watson also retweeted the memes.
Twitter account @RockMountAntifa, claiming to be an anti-fascist group in Utah, tweeted 29 of these images in four hours.
"She said she was right-wing, so I gave her a left hook," one read.
However, the account shows tell-tale signs of being fake: The account was only created this month and its first tweet was on 24 August, while the only tweets posted were the 29 images.
Eliot Higgins, who traced evidence of chemical weapons use in Syria, found evidence the anti-Antifa campaign was organised on 4Chan, which has a reputation for acting as a meeting place for alt-right groups, and runs a "politically incorrect" board with extreme racist and homophobic comments.
Mr Higgins posted a screenshot of a call to action on the message board, which encouraged far-right sympathisers to search online for images of domestic violence, add their own slogan such as "She deserves it for being a Nazi," then post them on social media using pre-determined hashtags.
These images are the same as those being circulated by fake anti-fascist accounts.
You might also be interested in:
Following the march, US President Donald Trump accused left-wing groups of being as equally to blame as far-right protestors for the violence, drawing widespread condemnation for equating the two.
Mr Higgins told the BBC the campaign was "pretty clumsy", with obvious signs of being orchestrated.
"Many of the accounts tweeting the images were clearly made in the last ten hours and had very few followers," Mr Higgins explained.
"This was a transparent and quite pathetic attempt, but I wouldn't be surprised if white nationalist groups try to mount more sophisticated attacks in the future."