Does President Macron's make-up bill make you blush?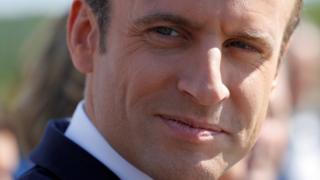 Since Emmanuel Macron became President of France in May 2017 he has spent approximately 26,000 euros (£24,000) on make-up, an amount that has left many social media users blushing.
The French weekly news magazine Le Point claimed this amount was spent on a personal make-up artist who was "hired to beautify" Macron.
Responding to the claims, the president's Elysée Palace told France Info that while the figure was high, it was not as high as former Presidents Hollande and Sarkozy. Macron's aides also said they would be looking at cheaper options in future.
While it is not uncommon for people in the public eye to use foundation to help combat harsh camera lights and flash bulbs, many social media users have said the president's bill is anything but flawless.
Inevitably Macron memes have been appearing across social media with one branding him "ToutanMacron" referring to the Egyptian pharaoh Tutankhamun.
Others have been having fun with his campaign poster and photoshop.
Elodie wonders how much it would have cost if he made-up his eyes, mouth and cheeks as well.
You might also like:
@Hadreb and @Stayveiner referred to the make-up as "poudre de Perlimpinpin" which can have two meanings - fairy dust or snake oil - and is a nod to his choice words aimed at Marine Le Pen during a heated debate in the run up to the French elections.