West Africa steams over jollof rice war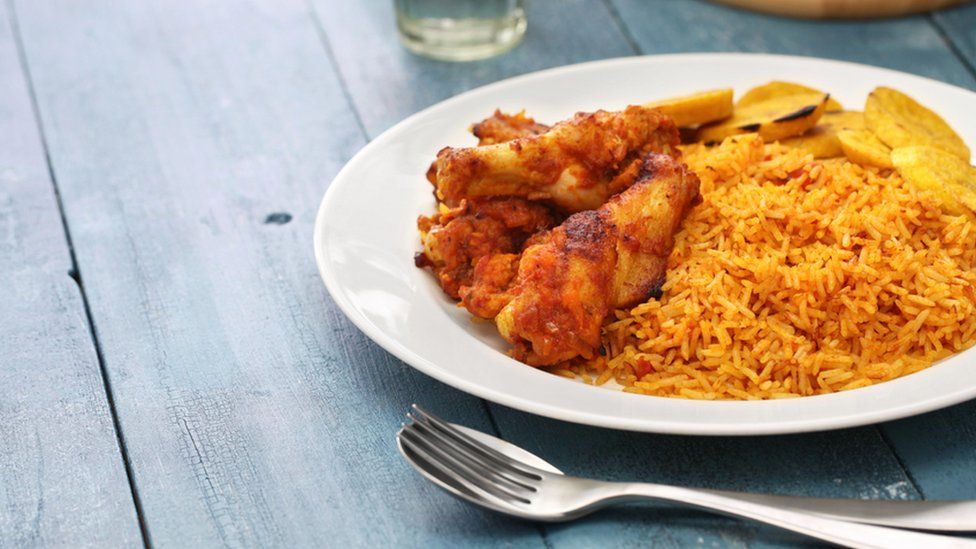 Which nation makes the best jollof rice?
This simple question has grown into a fierce debate in some West African countries, where jollof rice is a national delicacy.
The celebration dish is hugely popular in countries such as Senegal, Ghana, Nigeria, Gambia, Sierra Leone, Liberia and Cameroon.
The reddish one-pot dish is prepared with rice and tomato sauce with alternative ingredients that slightly vary by country.
This variation in recipes is perhaps at the root cause of this debate, which is a popular topic not only social media, but also street conversations.
And the debate doesn't only find an audience amongst rice lovers or food bloggers, but even politicians, business tycoons and celebrities have entered the fray at their peril.
The Nigerian vice-president found himself having to defend his information minister Lai Mohammed in April this year after a misunderstanding over a comment the latter made about jollof rice.
The controversy began when a journalist asked Mr Mohammed which country makes the best rice. The minister understood the question to be about where jollof rice originated. So he replied Senegal.
The journalist later clarified the situation with a tweet, but despite his clarification and the Vice President's defence, some Nigerians rebuked Mr Mohammed for what they regarded as a betrayal of the country's cuisine.
Given the strength of this reaction, Facebook boss Mark Zuckerberg wisely chose to be diplomatic when he sampled the local jollof on a visit to Nigeria in August 2016.
Speaking at an event in Lagos, the well-briefed billionaire declared: "Yesterday, I had jollof rice and shrimp. It was delicious, fantastic. I was told not to compare Nigeria's jollof rice to that from other neighbouring countries."
Despite his cautious approach, this was enough for some Nigerians to claim that Zuckerberg has endorsed Nigerian jollof as the best.
'We also think we have the best jollof'
The fierce battle for supremacy was also much in evidence at a Jollof Festival that was held in Washington DC last July.
Around 600 entrants, representing a wide range of west African countries, competed to create the top jollof dish. The judges sampled the entries in a blind tasting to prevent any accusation of favouritism.
Nigeria's Atinuke Ogunsalu won the competition. She won a $1000 prize and the offer of a job as a chef at a new jollof restaurant.
Nigeria had also organised first ever Jollof Rice national competition on the occasion of World Jollof Rice Day on 22 August. Its winner will be decided on 29 August.
This display of dining dominance may make Nigerians believe they have it in the bag, but others are not at all ready to end the debate.
As far as jollof's origin is concerned, Senegal and Gambia can make forceful claims purely on linguistic and geographical point of views.
Jollof rice derives its name from the Wolof people of Senegal. Wolof is the lingua franca of Senegal and also spoken in some parts of Gambia.
But even after giving Senegal and Gambia the status of originators of jollof rice, the debate still continues on who prepares the best one.
Talking to BBC Trending, Nigerian Chef Imoteda says, ''Nigerians make the best jollof rice.
"I've been to Ghana; I'm not sure why Ghana keeps trying to start this war - they have lots of amazing food there, I love them, but jollof rice is not one of their strengths.''
Jayjay B, popularly known as MukaseChic, from Ghana, is a food entrepreneur, a restaurateur, a food blogger, and owns a company who organises food events across the continent.
Talking to BBC Trending she says, ''First of all I'd like to say our Nigerian neighbours are very competitive.
"Nigeria and Ghana are very close and we do this for fun, but I think the jollof wars have gradually become the most epic fun fight we've had for a long time.
"[Those] in Nigeria think they have the best jollof and we also think we have the best jollof.
"Now the most amusing thing about this war is that I find it very interesting that we are fighting for second place, because Senegal is in first place.''
So what does a Senegalese have to say about this rice war?
BBC Trending talked to New York-based Senegalese chef Pierre Thiam, who is also an author and has been researching Senegalese food for many years.
When asked who makes the best jollof rice, she says, ''That's a question that gets me in trouble, but no doubt Senegal makes the best and the original jollof rice - but it doesn't say that the others are not good.''
Reporting by Anisa Subedar & Iqbal Ahmed