Hold on, isn't that stock image Nicola Sturgeon?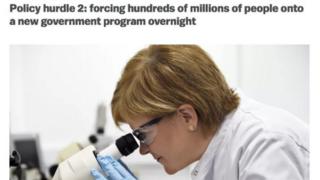 We all make mistakes at work but luckily for most of us, millions of people aren't privy to it.
American news and media website Vox published an article on Monday about an American politician's health care proposal. It is a hefty analysis of how the bill would affect millions of Americans.
Like many articles, across many news sites, stock images were used to illustrate the piece - in this case, pictures of people engaged in scientific study were peppered throughout.
There was just one problem - one picture of a woman peering into a microscope was actually Scotland's first minister and SNP leader Nicola Sturgeon.
The photograph was taken in early August during a visit to a life science laboratory in Glasgow by the politician.
---
You might also like
---
Social media was quick to pick up on the error. Or, at least, other journalists were.
The Independent's Jon Stone wondered why Vox would use Nicola Sturgeon when other photographs of scientists are available, while posting an image of (former chemist, now German Chancellor) Angela Merkel also looking into a microscope.
Another contender could be former British Prime Minister Margaret Thatcher, who worked as a food technician, suggested naval history blogger Simon Harley.
Vox quickly realised their mistake, updating the article last night, but is not the only media outlet to make this mistake.
In December 2016, a US TV bulletin featured a picture of Ed Miliband in a news item about flu vaccinations.
The photograph of the former Labour leader blowing his nose had been taken at a party conference in 2011.
The BBC has also been known to accidentally illustrate stories with pictures of famous politicians.
In 2014 an article about male obesity was illustrated with a close-up of a man's bulging waistline.
The image was in fact a detail of a picture from 2008 of then Schools Secretary Ed Balls.