Sharks, underwater airplanes, bragging looters: The fake news about Harvey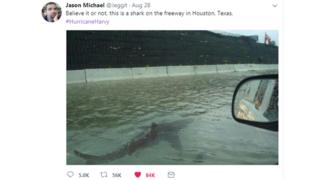 As rescue operations continue in Texas and Louisiana, a number of fake stories and false rumours have circulated online about Tropical Storm Harvey. BBC Trending has spotted some of the most viral fakes:
Looters were not bragging on Twitter
Thousands of tweets were sent using hashtags such as #Harveylootcrew or #Houstonlootcrew. The most popular images being shared showed wrecked shops, and expensive phones and computers. Some were posted by accounts labelled as "satire" or "parody", and others were on obvious hoax accounts - ones set up in the last few days and which were tweeting exclusively about looting.
Hoaxers have used social media to exaggerate reports of looting during previous disasters and protests - for instance during Hurricane Sandy in New Jersey in 2012 and the unrest in Ferguson, Missouri in 2014.
In Houston, there were some reports of theft, but on a small scale. Police Chief Art Acevedo said four people were arrested on Monday.
This photo does not show Houston's airport
A photo of submerged planes made the rounds online, purporting to be an image of Houston's flooded airport.
The photo was actually a speculative illustration from the website Climate Central, showing what La Guardia Airport in New York might look like in the year 2100 if sea levels continue to rise.
There were authentic and striking photos of underwater runways posted by local journalists, however, they lacked the dramatic touch of including flooded airplanes:
---
You might also be interested in:
---
Police aren't checking immigration papers at shelters
It's unclear where the rumour started, but Houston authorities were moved to deny via Twitter that they would ask anyone for proof of immigration status at a temporary shelter. The message was posted in both English and Spanish
A shark was not spotted on a freeway
Scottish journalist Jason Michael tweeted a ridiculous Photoshopped picture of a shark supposedly making its way down a Houston freeway.
He never meant it to be taken seriously, but thousands were fooled, and Michael wrote a blog post detailing some of the abuse and outrage that was directed his way.
And other false rumours...
Tweets made the rounds claiming that authorities were shutting down water or restricting re-entry into cities, or urging those in danger to phone a number linked to an insurance company. The Houston Chronicle collected some of the false rumours in a photo gallery and quoted Houston Mayor Sylvester Turner as saying the rumours "are interfering with efforts by the city of Houston, and its government and news media partners, to provide accurate information to the public".
Blog by Mike Wendling
You can follow BBC Trending on Twitter @BBCtrending, and find us on Facebook.