The most sacred site in Islam is tweeting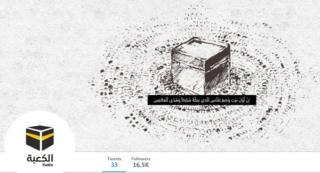 An account named after Islam's most sacred site has joined Twitter and it has its own emoji.
The Kaaba, which means "cube" in English, is a stone building located in the centre of the Grand Mosque in Mecca, Saudi Arabia.
It serves as the "qibla", the direction that all Muslims across the world face during prayer.
@HolyKaaba started tweeting under the guise of the ancient structure on Tuesday as two million Muslims arrived in Mecca for the annual Hajj pilgrimage. As part of the Hajj, pilgrims are required to walk around the Kaaba seven times, a ritual known as the "tawaf".
On Thursday, @HolyKaaba's live Periscope video showing officials changing the "kiswa" - the black and gold silk curtain draped over the Kaaba - attracted more than 14,000 views and 400 retweets.
As might be expected from Islam's holiest site, the Kaaba's communications have so far stuck to a serious tone.
The Kaaba's foray into Twitter - a community not known to harvest the most spiritual opinions - began two days ago with a simple statement about itself: "The Kaaba - peace symbol of Islam".
Followers responded with blessings and verses from the Koran.
The Kaaba account was first set up in March 2017, but after breaking its silence on Tuesday, it has tweeted 33 times, at the time of writing, and the account's following has more than trebled, reaching more than 14,000 followers, in 24 hours, and is now at 16,500 followers.
Mobile phone usage whilst on Hajj has previously been frowned upon so it is unclear whether Kaaba's digital faithful are observing the building from afar or if they are checking for updates from Mecca.
The most recent tweet offers spiritual guidance, complete with hashtag #Kaaba and the building's emoji.
You might also like:
Although the account has a "blue tick" indicating it has been verified by Twitter, it is not clear who is behind it.
"The account doesn't appear to be linked to any of the social media accounts launched by the Saudi Ministry of Culture and Information on Hajj this year," BBC Arabic social media expert Faisal Irshaid commented.
"It is rather surprising that the account remains unknown among many. Usually, in the Arab World and elsewhere, accounts of landmarks, celebrities or popular topics quickly find their way into people's newsfeed."
@HolyKaaba joins a number of other well-known buildings active on social media.
@big_ben_clock became famous for tweeting "BONG" for each chime of London's landmark timepiece. The account is currently holding the fort as the physical Big Ben is silent while being refurbished.
The Eiffel Tower tweets first-person updates and congratulates Instagram users for great pictures of itself.