Why is US Senator Ted Cruz trending for porn?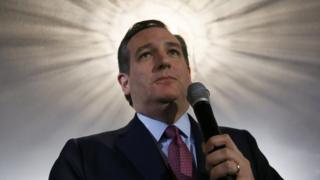 A US Republican senator who once defended a ban on masturbation appears to have "liked" a pornographic video on social media.
The Twitter account of Ted Cruz, the former lawyer who ran for US president in 2016, "liked" the two-minute video by @SexuallPosts on Monday.
It is not known who was using the Texas Senator's account at the time.
Initially, Senator Cruz did not comment, although his staff confirmed the "offensive tweet" was removed from the @tedcruz account. Later, he told reporters the incident was a "staffing issue" and "not malicious".
Although the video was "unliked" after 40 minutes, it was too late.
By Tuesday morning, Mr Cruz, who is known for his conservative social views, was trending worldwide - with jokes, photoshopped images, memes and more than 200,000 tweets - as some realised they might have more in common with the senator than previously thought.
One of the first reactions was disbelief at discovering that the senator, who last year voted in favour of an amendment to the Republican Party platform describing pornography as a "public health crisis" that destroys lives, had apparently been caught in the act.
"Can't believe I just caught Ted Cruz slipping," wrote @BobSamurai.
The timing of the "like" - on the same day as the anniversary of the 9/11 attacks - did not go unnoticed.
One tweet pointing it out was shared more than 10,000 times and liked 43,000 times, more than any other.
Others highlighted the irony of Senator Cruz's "like" in light of his work as Texas solicitor general in 2003-2008 to ban sex toys.
There is no right "to stimulate one's genitals" his team argued at the time, which comedian Eric Andre reminded people of.
Meanwhile, the porn industry was delighted about the attention given to them.
But mostly there was gentle mockery of the incident.
"In divisive times like these it gives me great comfort that all American can join together to make fun of Ted Cruz," commented sportswriter Molly Knight.
Journalist Andrea Grimes summed up America's Monday night: "I was going to stop drinking wine and go to sleep like a real adult but I see there are many hours of Ted Cruz jokes to retweet in front of me."
Mr Cruz has however previously admitted to viewing porn.
In his 2015 autobiography A Time for Truth he describes watching pornography with Supreme Court justices to research a case.
You might also like:
When Mr Cruz spoke to journalists about the liking of the video, as reported by Frank Thorp of NBC and Ed O'Keefe of the Washington Post, he explained staff were "dealing with it internally".
"There are a number of people on the team that have access to the account and it appears that someone inadvertently hit the like button," said Mr Cruz. "When we discovered the post... we pulled it down."
However, indicating the level of media attention gathered by the incident, compared to his presidential nomination campaign, the senator joked his team should have conducted "something like this during the Indiana primary".
By BBC UGC & Social news