German election: 'We are the 87%,' say AfD opponents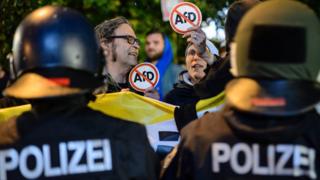 Alternative for Germany (AfD) has been the big winner in Germany's election.
Though Angela Merkel remains as German chancellor, she presided over her party's worst electoral performance since 1949.
AfD, a right-wing nationalist party formed in 2013, claimed almost 13% of the popular vote. It is the first time since World War Two such a party will enter the German parliament.
But people online have been quick to point out the majority of the electorate - 87% of those who voted - opted for one of the other parties. The hashtag #87Prozent [87 percent] has been trending on social media in Germany.
Journalist Imre Grimm was the first person to share the hashtag on Twitter on Sunday.
"I must just remind you," he wrote. "We are 87 percent. In other words: an absolute majority against the right".
Shortly afterwards, German news organisation Zeit Online picked up the baton. A tweet from the media company's official account, which has close to two million followers, encouraged social media users who had voted against AfD to share their hopes for the future.
The hashtag has since been shared more than 12,000 times.
"I am the 87% and I wish for less hate and more empathy," one social media user wrote.
"I am the 87% and we should stand together hand in hand against hate and for cosmopolitanism," another commented.
Prominent AfD politician Beatrix von Storch criticised Zeit Online.
"87% have not voted AfD. Correct," she tweeted. "And 90% have not voted FDP [Free Democratic Party]. And 91% not the Greens. Have you still really not got it Zeit Online?"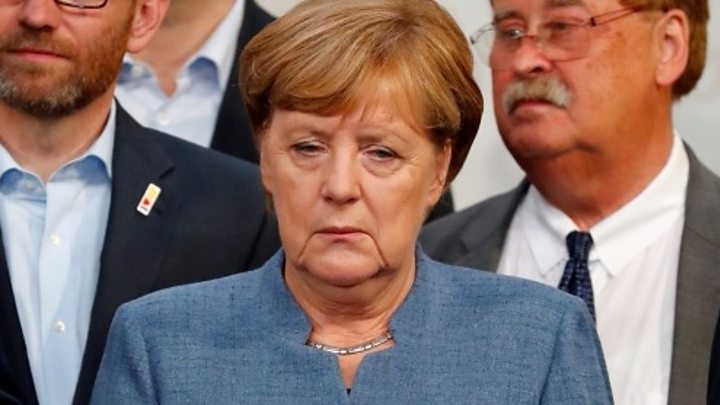 AfD co-leader Alexander Gauland has pledged to fight "an invasion of foreigners" into the country.
Mr Gauland said: "One million people, foreigners, being brought into this country are taking away a piece of this country and we as AfD don't want that."
Immigration has been a deeply divisive issue in Germany. Between 2014 and 2016 asylum applications in Germany rose dramatically in the midst of the migrant crisis, though that number has fallen sharply this year.
Mr Gauland's comments reflected much of the criticism levelled at those sharing the hashtag online. One AfD supporter claimed the election was a referendum on what they termed the "Islamisation of Germany".
"I was wondering before the election how stupid the Germans are," another supporter wrote. "87 percent meets it quite well. The 'conversion' can continue."
There has also been criticism from the left.
"I am the 87 percent and I want this number not to reassure us," one social media user wrote. "It would be better if we were 88 percent. Or 89. Or 90. Or even 100".
By UGC and Social News team