When politicians fall foul of social media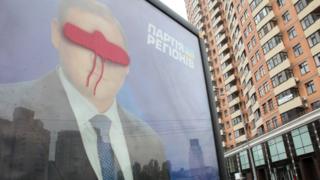 You've probably heard of Ed Balls Day.
Back in 2011, the former Labour MP inadvertently inserted his name into the calendar by tweeting two famous words: Ed Balls.
You might be less familiar with Mykhaylo Dobkin, unless you're reading in Ukraine. But Mr Dobkin became a social media sensation 10 years ago to the day, long before Ed Balls, when a video leaked of him preparing for his electoral campaign.
A decade on, Ukrainians are celebrating his sweary contribution to the pantheon of politicians who have come unstuck online.
Starring alongside Mr Dobkin, then the mayor of Kharkiv, Ukraine's second most-populous city, was his close ally Hennadiy Kernes.
Like many double acts, it's the back and forth between the two which helped the video to spread far and wide. Much of their exchange is somewhat less than safe for work but, as Mr Dobkin struggles to get to grips with his lines, there are a few, choice, printable morsels.
"This text has been written by a moron," Mr Dobkin exclaims, as he attempts to get his words out.
"Your face is dull. Nobody will give you money," Mr Kernes retorts, in an apparent attempt to liven up Mr Dobkin's performance. Both have become often heard catchphrases in Ukraine.
You might also like:
Mr Dobkin is currently a member of the Ukrainian parliament who unsuccessfully ran for President in 2014.
He is under criminal investigation for alleged abuse of office, charges he denies, while Mr Kernes, the current mayor of Kharkiv, has been confined to a wheelchair since 2014 following an unsuccessful assassination attempt.
Mr Kernes is charged with alleged abduction and death threats linked to the 2014 revolution which saw President Viktor Yanukovych, then the leader of Dobkins and Kernes' political party, forced into exile in Russia.
'Epic video'
Marking the 10-year anniversary, the video has once again been widely watched and shared.
One posting of the video from a Ukrainian satirical Facebook page (warning: contains swearing in Ukrainian) has been watched more than 150,000 times.
Ukrainian blogger Sergey Naumovich described it as the "most epic video of Ukrainian politics".
"This video is epic not only because of the catchphrases but also because the candidate is not even remotely aware of what is said in his campaign speech and because he can't put two words together even with a cue," Naumovich wrote.
Social media user Aleksey Moroz reflected the sentiment of many comments on posts sharing the video when he asked: "How can you vote for this? I can't even wrap my head around it."