Las Vegas: The fake photos shared after tragedies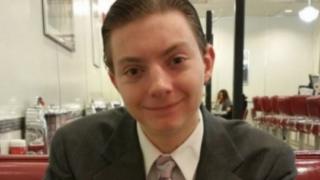 At least 50 people have died and hundreds have been injured in a mass shooting in Las Vegas.
Revellers attending an open-air music festival fled the scene in panic as a gunman, named by police as 64-year-old Nevada resident Stephen Paddock, opened fire from the 32nd floor of the nearby Mandalay Bay Hotel.
As emergency services raced to the scene, the response on social media was similarly rapid.
Among the sympathy, the shocking eyewitness video and the desperate scrabble for information, photos which falsely claimed to be victims or attackers began to circulate.
It's a depressingly familiar formula. Tragic news of mass shootings and terrorism is seemingly always followed by a flurry of false information peppering social networks with misdirection or misunderstanding.
And many of the same photos crop up again; tragedy memes played for laughs and retweets, even as the real victims still lie dead, dying and injured.
Probably the most well-known of these memes features an image of US comedian Sam Hyde. His image has been circulating again following the attack in Las Vegas. CNN mistakenly included his image reporting on a college shooting in Oregon in October 2015.
Image-sharing site 4chan - known to many as the birthplace of hacking collective Anonymous and as a repository for hacked photos of naked celebrities - is thought to be behind the Sam Hyde meme. He has been falsely named online as the perpetrator of scores of mass shootings, including the 2015 San Bernardino attack in which 14 victims were killed.
The Twitter account which posted the image of Hyde above - tweet pinned to the top of the account: "All I really know is that I want to make you all laugh and try to give you hope for the future" - is far from the only one to have shared Hyde's image.
Fake photos of victims or missing have also circulated.
Similarly, the man behind "TheReportOfTheWeek" - a popular YouTube channel featuring fast food reviews with close to half a million subscribers - was falsely named among the missing following the terror attack at an Ariana Grande concert in Manchester.
He was prompted to release a video declaring "I am alive" as a result. The video has attracted more than 600,000 views on the video-sharing platform.
His image has been widely shared once more in the wake of the shooting in Las Vegas.
The BBC asked one of those sharing the image to comment on why they had shared the picture and claimed it was a photo of their missing brother. There has been no response by the time of publication, but the false information remained online.
TheReportOfTheWeek, also known by many online as Review Brah, has also been approached for comment.
Other images which have been circulated by social media users falsely claiming that they are missing include porn stars and top Premier League footballers.
Pictures of Chelsea forward Eden Hazard and Arsenal midfielder Mesut Ozil are among those to have been shared.
The motivation is unclear, but this is not the first time top-flight footballers have been misidentified in news stories.
In August, right-wing news site Breitbart accidentally used an image of former Arsenal footballer Lukas Podolski on a jet-ski to illustrate a story headlined "Spanish Police crack gang moving migrants on jet-skis".
By UGC and Social News team