Monopoly Man upstages Equifax Senate hearing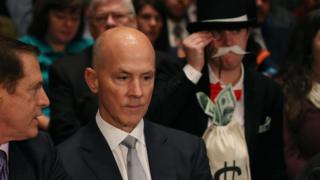 When former Equifax CEO Richard Smith was getting ready to answer senators' questions in Washington on Wednesday, it is unlikely he gave much thought to the risk of being upstaged by the Monopoly Man.
But sitting behind him, bedecked in top hat, monocle and comedy moustache, was Rich Uncle Pennybags.
Or, at least, Amanda Werner of the campaign groups Public Citizen and Americans for Financial Reform, dressed as the popular board game mascot in protest against Equifax.
Mr Smith was giving evidence to senators following a massive data breach at Equifax, which may have exposed the personal information of more than 145 million people.
The Public Citizen stunt has captured the imagination of social media users.
Since Wednesday afternoon the phrase 'Monopoly Man' has been used more than 42,000 times on Twitter. Images from the protest have been retweeted, sometimes tens of thousands of times, including by finance journalists and celebrities.
As Mr Smith answered senators' questions, Ms Werner peered intently at the proceedings through a monocle, pausing occasionally to dab imaginary sweat from her brow with a bundle of oversized notes.
You may also like:
Following the former Equifax CEO into a lift, Ms Werner attempted to hand him a bag of money. On Reddit, some referred to her as "the hero we need," while others advised "internet trolls take notes" from her actions.
Public Citizen claimed colleagues had earlier hand-delivered 'Get Out of Jail Free' cards - handy if you find yourself on the wrong side of the law in the popular Monopoly board game - to all 100 Senate offices.
The campaign group is seeking to highlight forced arbitration clauses which, it says, favour financial institutions rather than customers.
Under the terms of such agreements, individuals sometimes unknowingly sign contracts which prevent them from taking companies to court.