Female driving ban: Why did this selfie enrage some Saudis?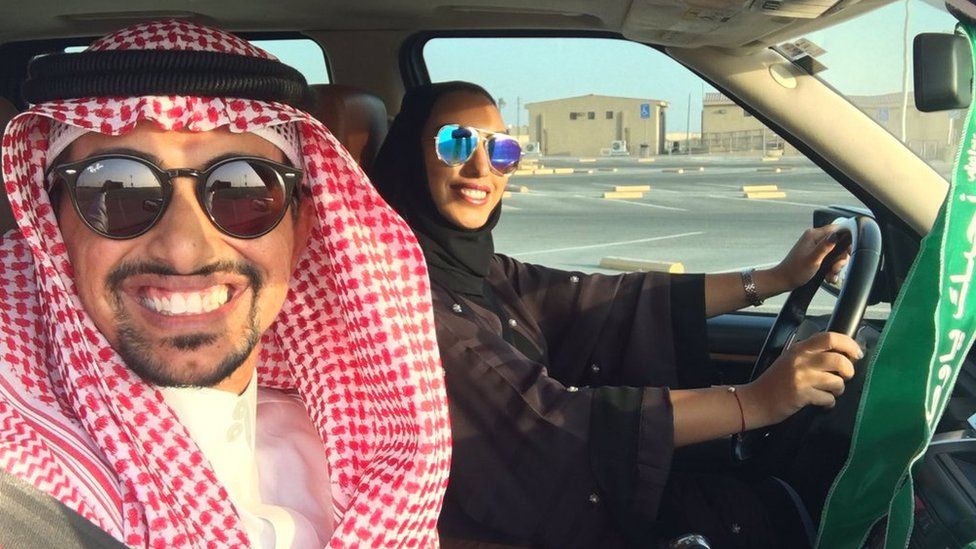 Three days after King Salman issued a decree allowing women in Saudi Arabia to drive, a selfie of a man giving his wife a driving lesson led to a divisive conversation on Twitter.
Faisal BaDughaish, an analyst in a gas and oil company from Dhahran in the east of Saudi Arabia, tweeted a photo of him with his wife in an empty car park. The tweet read: "I started teaching my wife how to drive in one of the private parking spaces in a safe and legal way, preparing for the law to take effect."
But the reaction to the picture - which was retweeted thousands of times - shows just how controversial the lifting of the driving ban is. Some said that they disapproved of Mr BaDughaish publishing a photo of his wife's face.
"Don't you feel embarrassed or protective of her when posting her picture?" tweeted one user called Bderr1991. "Shame on you."
But many women responded positively to the tweet saying that they too were expecting lessons from men in their family. A woman named Amal Nadhreen commented: "Tomorrow, my son Azzam will teach me how to drive."
Some men, like Faisal Alshehri, tweeted that they were encouraged by Mr BaDughaish to teach their own wives: "We're all going to follow your lead."
However, other women revealed that the royal decree had caused debate within their own families. A tweeter named Julnar wrote: "I will let my son train me, even though my husband says no - but I am not having that."
You might also be interested in:
Speaking to BBC Arabic, Mr BaDughaish said that both he and his wife had been "waiting impatiently" for Saudi Arabia's law to change and that he was hoping the selfie would encourage other Saudi men to teach their female relatives to drive.
He added that he also wanted to inspire women to train in a legal way, as it is currently not permissible for females to learn how to drive on main roads in Saudi Arabia.
"I think that was a great experience," she said.
Faisal BaDughaish said that some of the messages sent to him were so threatening that he reported them to Saudi Arabia's cybercrimes department.
The historic announcement, allowing women in Saudi Arabia to drive, was made at the United Nations by Saudi Arabia's permanent representative. Women in the country will be able to drive from June 2018.
The Gulf kingdom is the only country in the world that bans women from driving - only men are allowed licences and women who drive in public risk being arrested and fined.
Blog by Lamees Altalebi, BBC Arabic