The online bots behind Vladimir Putin's birthday wishes
By BBC Trending
Going in-depth on social media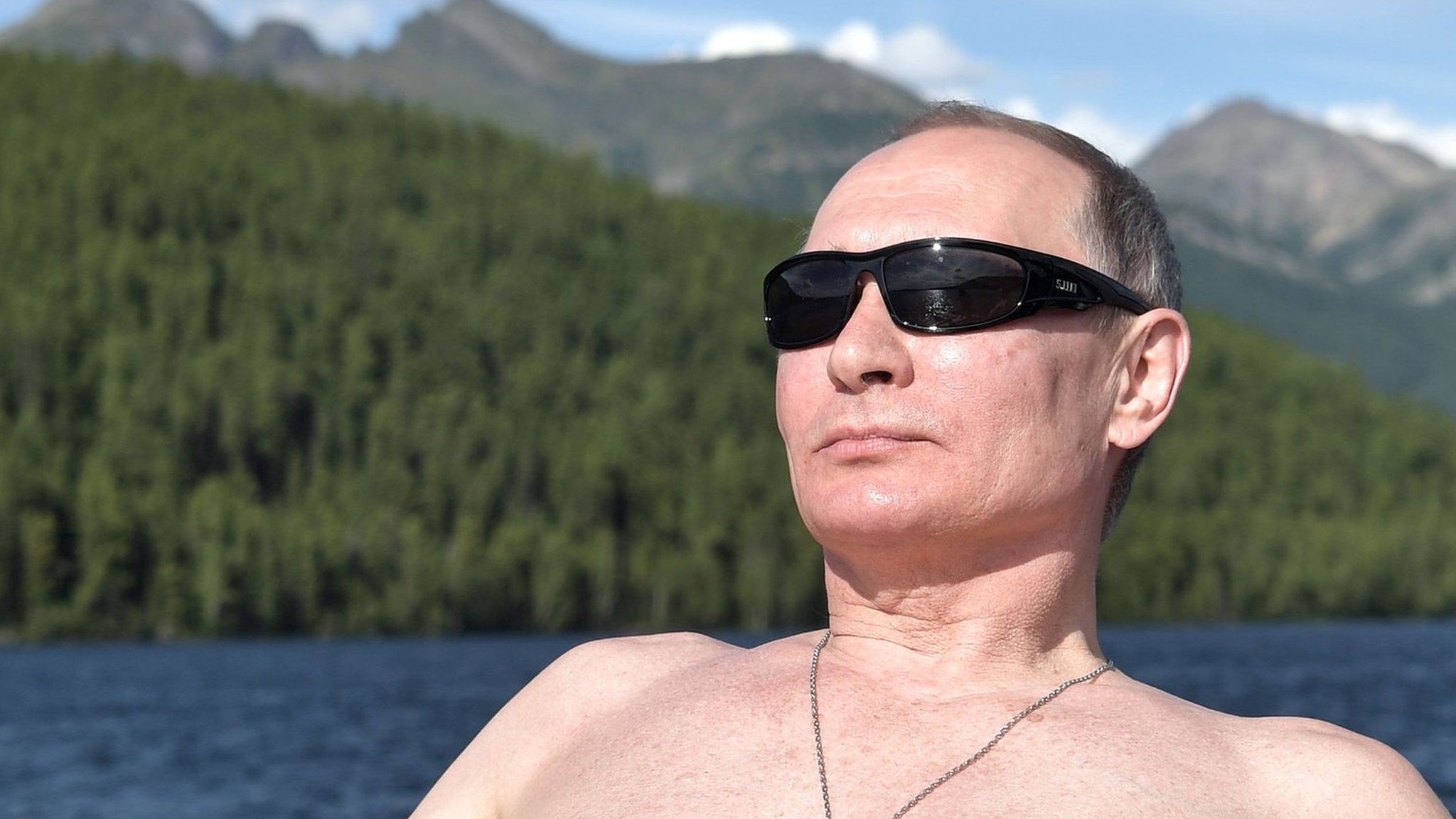 When President Vladimir Putin turned 65 on 7 October, he was not short of online well-wishers. But how many were real?
One of the most popular tweets using this tag is:
While the tweet was shared more than 800 times, none of those sharing it appear to be Russian speakers. They also seemed to lack the personality of an individual, were often advertising services, and with account information containing frequent typos.
"We are a professional photo servic in Vicoria an on Vancouver Island" (sic) said one. Another described themselves as a "Maria Arts Mrketing Guru" (also sic).
Several also contained sexually explicit content.
The @vitischeg profile also raises suspicions. The account was created in 2014 yet all tweets posted prior to 20 September appear to have been deleted. An analysis of the timeline suggests the account has stayed inactive for months at a time.
The bio states that the account holder is named Viktor Petrov-Vodkin - who shares his surname with a prominent Soviet painter. But an analysis by BBC Monitoring, using the social media tool Crimson Hexagon, shows the account previously used the name Viktor Vodkin-Petrov.
While the name Viktor, and the profile picture of a bearded man wearing shades, indicate that the owner of the account is masculine, a now-deleted tweet from 16 September uses the feminine form of a verb to describe how the account owner tried to make a salad.
You might also be interested in:
Random letters and numbers
This time, while almost all of the re-tweeters of the message by @YuryKuznetsov65 appeared to speak Russian, they still exhibited signs of being bots. Many of them had generic profile pictures of a logo, a landscape or a film character.
Similarly the names of many of these accounts are a random combination of numbers and letters (e.g. @NK598489, @8202ed2f4f1441a, @gda070874, or @V13155800). These are classic tell-tale signs of potential Twitter bots.
The @YuryKuznetsov65 account, was less than a day old at the time of tweeting. It claims, however, to be a replacement for @comradzampolit, a well-established pro-Kremlin account suspended by Twitter earlier this year.
Ben Nimmo, an information defence senior fellow at the Atlantic Council who studies online misinformation, says the happy birthday campaign is likely a privately run effort rather than a Kremlin-sponsored initiative.
"Bots are always hard to attribute, because they hide behind the anonymity Twitter allows, so it's not clear who's behind this," Nimmo told BBC Trending.
"This looks like a botnet [collection of automated bot accounts] at work, but that doesn't necessarily mean it's government-linked. The first network, in particular, looks commercial - for example, with lots of bitcoin adverts. The networks are small, in the hundreds of retweets, whereas major bot operations can involve tens of thousands of accounts. So this could simply come from a Putin fan with time and bots on his hands.
"There have been elements of a personality cult around Putin since early in his first term. Russia is due for presidential elections next year. Putin is expected to run for a fourth term, but his last re-election, in 2012, was marked by significant protests against him, and against election fraud. All the indications are that the Kremlin is desperate to avoid a repeat.
"We can't rule out some official connection here, but it looks more likely that this is a private pro-Putin initiative."
Reporting by Vitaliy Shevchenko, BBC Monitoring
Additional reporting by Megha Mohan
When a high-flying woman was appointed to Nigeria's central bank the discussion turned from her qualifications to her wardrobe. READ MORE