Saudi Arabia bans 'nightwear' in sport stadiums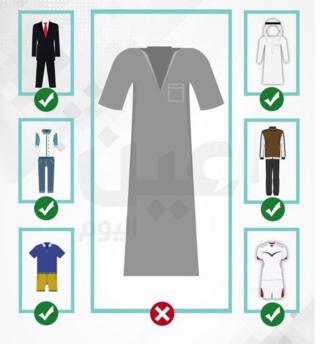 Saudi Arabia's sports authority has banned anyone "inappropriately dressed" from entering stadiums or facilities.
Since the ban was announced on 10 October, the hashtag "banning nightwear in stadiums" has been used close to 60,000 times on Twitter.
The decision appears to be an attempt by Saudi authorities to stop men from wearing a loose, short-sleeved robe - a traditional indoor garment - in public.
Social media users in Saudi Arabia were split in their reaction to the news.
A statement issued by the General Sports Authority said Turki al Alshikh, who was appointed chairman by royal decree in September, instructed sports officials to refuse entry to "inappropriately dressed" patrons.
"This is in light of the fact that football matches and some sports games are broadcast live and are watched by people of different ages," the statement read.
"This requires people to appear in clothing that suits the nature of Saudi society and is in line with public decorum, and keep away from anything that violates this, including the wearing of garments that are not appropriate to appear in public places."
Some on Twitter using the hashtag "banning nightwear in stadiums" shared images of people wearing the robe in public.
"It is a decision that will have a considerable impact on Al-Hilal team fans' attendance," wrote one social media user, "given that most of them wear this garment when attending [games]."
"To sensible people reading this tweet," another wrote, "it is called nightwear, so why do you wear it in public places... a delightful and very right decision".
Others supporting the decision questioned why the rule had not also been applied to mosques.
"A right decision but it was supposed to be applied in the houses of God first," one social media user said.
You might also like:
Opponents of the ban also took to social media to air their views.
"A strange and improvised decision," one said. "Do you know that the price for the right robe is only 30 riyals ($8, £6)? They think the people are rich."
It is not just in Saudi Arabia where the issue of wearing nightwear in public has proved controversial.
In January, Tesco shrugged off a complaint from one of its customers in the UK, who complained about people wearing pyjamas in stores.
By UGC and Social News team and BBC Monitoring.