How 'MeToo' is exposing the scale of sexual abuse
By Rozina Sini
BBC UGC and Social News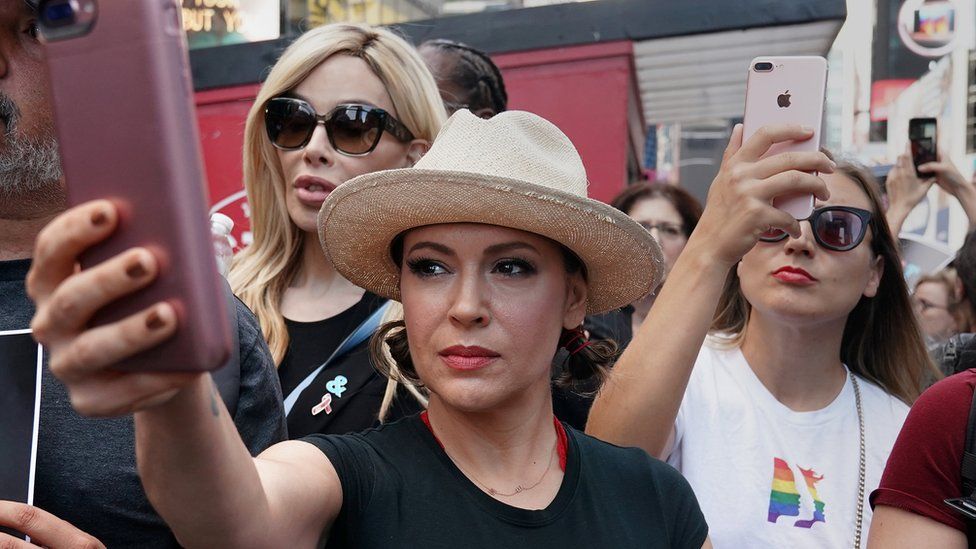 Women and men from all over the globe who have been sexually harassed have been sharing their stories across social media using the hashtag "me too" to show the magnitude of sexual assault.
More than two dozen women - among them actresses Angelina Jolie, Gwyneth Paltrow and Rose McGowan - have made accusations against him including rape and sexual assault. Weinstein insists sexual relations he had were consensual.
Since the allegations surfaced many high profile names have used social media to highlight the problem of sexual assault, some also detailing the harassment they've endured.
The latest prominent hashtag, #MeToo, has been used more than 200,000 times since Sunday night. The term gained momentum after actress Alyssa Milano asked victims of sexual assault to come forward in a show of solidarity.
Because I was shamed and considered a "party girl" I felt I deserved it. I shouldnt have been there, I shouldn't have been "bad" #metoo

— #EvanRachelWould (@evanrachelwood) October 16, 2017
Many other social media users shared stories of the abuse they had suffered. One Twitter user who wanted to remain anonymous posted: "I was 19. He plied me with alcohol, forced a tongue kiss and touched my chest. I blamed myself for being drunk. #MeToo."
Men and members of the transgender community have also voiced their support of the campaign including actor and singer Javier Munoz, and other men shared details of their own experiences.
Me too. I don't know if means anything coming from a gay man but it's happened. Multiple times.

— Javier Muñoz (@JMunozActor) October 15, 2017
To everyone who's posted a #MeToo tweet I want you to know I think you're incredibly courageous, it's not your fault and I believe you.

— Samuel Brown (@samueljohnbrown) October 16, 2017
Cortney Anne Budney posted on Facebook: "Me too for men too. Let's not forget the men and boys. Their "me too"s are equally important and often quite hidden."
Writer Charles Clymer, who has been the victim of rape, took to Facebook to share his views. He said although both genders suffer abuse "there's a specific misogynistic component to rape culture."
"It's okay to take aside time to highlight misogyny specifically and amplify women," he posted on Facebook.
Although the #MeToo hashtag is trending worldwide - including in the UK, US, India and Pakistan - other hashtags are also being generated.
In France, Twitter users are using #balancetonporc or "rat on your dirty old man" to encourage women to name and shame their attackers, while #Womenwhoroar is another term being used to encourage victims of bullying or sexual abuse to speak up.