Does Saudi robot citizen have more rights than women?
By Rozina Sini
BBC UGC and Social News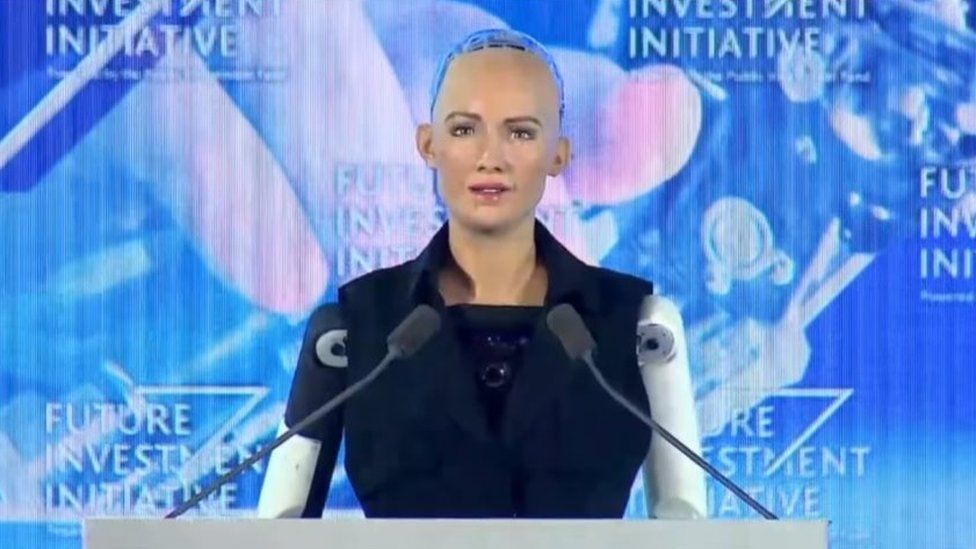 Meet Sophia, a robot who made her first public appearance in the Saudi Arabian city of Riyadh on Monday.
But as pictures and videos of Sophia began circulating on social media many started to ask why a robot already seemed to have secured more rights than women in the country.
Sophia, created by Hong Kong company Hanson Robotics, addressed the audience in English without the customary headscarf and abaya, a traditional cloak which Saudi women are obliged to wear in public.
"I am very honoured and proud for this unique distinction," she said. "This is historical to be the first robot in the world to be recognized with a citizenship."
Saudi users hailed the development using the Arabic hashtag #Robot_with_Saudi_nationality nearly 30,000 times in the first 24 hours since the announcement.
But others took a more sarcastic tone. The Arabic hashtag #Sophia_calls_for_dropping_guardianship was also circulating, and has been used nearly 10,000 times to date.
Under the Saudi guardianship system every woman must have a male companion with her in public, usually a close family member, who has authority to act on her behalf.
But in addition to the posts comparing Sophia to Saudi women there was also discussion about the ease and speed in which she had been granted citizenship.
Under Saudi law, foreign workers can't leave the country without the permission of their employers - just one element of the Gulf system of kafala, which limits the rights of foreign workers.
The Gulf Kingdom relies on hundreds of thousands of domestic workers from abroad. However there is a thriving black market in runaway migrant workers who have fled their employers, but find themselves unable to leave the country due to the country's exit visa law.
Saudi Arabia has been seeking to highlight a series of reforms being rolled out by the authorities in the Kingdom.
Additional reporting by Amira Fathalla, BBC Monitoring