Cards Against Humanity versus Trump's US-Mexico border wall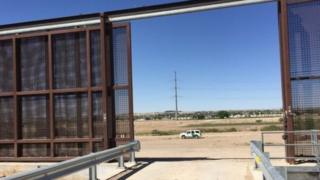 Board and card games can be fun, challenging and keep family and friends occupied. But one rather risqué game has recently embarked on a more politically strategic challenge.
Cards Against Humanity - "a party game for horrible people," according to its creators - has been mentioned in over 14,000 tweets, at time of writing, after revealing it had purchased a plot of land on the US border with Mexico.
The company is known for self-aware stunts, such as launching a pink edition of the game for women and raising $95,000 (£72,000) to dig a hole for no reason.
According to the company's website, which uses language some may find offensive, the aim is to "make it as time-consuming and expensive as possible" to build US President Donald Trump's proposed border wall.
The Chicago-based company claims it will "save America," having asked for $15 in exchange for six "America-saving surprises."
According to the website, there are no more slots remaining to sign up for the "surprises", but those who have paid will get "an illustrated map of the land, a certificate of our promise to fight the wall, some new cards, and a few other surprises."
It has enlisted the help of a law firm specialising in "eminent domain" - the power of the federal government to acquire private land at a market price.
Many on Twitter have found this highly amusing. Instagram model Crystal Leigh described it as "the best thing" to happen all day.
Cards Against Humanity founder Max Temkin is pretty impressed with all the activity on social media and has been kept busy carrying out interviews.
He also tweeted 150,000 subscriptions to the game were sold within nine hours, which would earn the company $2.25m.
However, not everyone has been impressed with the game's latest stunt. Jennifer Primich, posted on Facebook Cards Against Humanity was "ruining fun" and it should "go back to making offensive fun games for everyone".
Meanwhile, although the response on Reddit was largely supportive, several posters pointed out those who would ultimately pay would be the US taxpayers who fund the government's lawyers.
You might also like:
This is not the first time the company has acquired land. In 2014, an idea to buy an island off Maine came from a previous joke about how $70,000 profit from a holiday promotion could be spent.
The team then - again using language some people may find offensive - blogged on social networking website Tumblr about how they established "Hawaii 2" and realised the problems in dividing the land among thousands of people.
Courting controversy in 2016, Cards Against Humanity produced a party game called Secret Hitler, which "models the rise of fascism in a democracy".
Temkin tweeted a video clip of covering letters and packages of the game about to be sent to every US senator in February 2017, which was liked 8,000 times.
While the idea was to satirise the Trump administration, some people on Twitter replied they felt "alienated" by the political stunt.