How a former New Zealand MP became a gay icon in Japan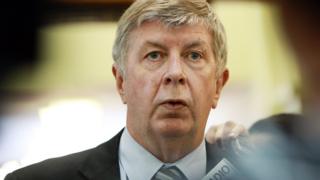 This is Maurice Williamson. He was an MP in New Zealand who has now gained a following in Japan.
It appears that Mr Williamson's rising popularity as a gay icon among many Japanese people is thanks to a video of a speech he made four years ago on the subject of same-sex marriage.
The footage seems to have become a battle cry for marriage equality among Japanese social media users.
Some cities in Japan recognise gay partnerships, but same-sex marriage remains illegal in the country.
The four-year-old footage of Williamson's rousing but humorous speech during the third reading and vote on the Marriage Equality Bill in 2013 in Wellington, was posted again last Saturday on Twitter.
It resurfaced in response to recent comments made by Wataru Takeshita, the General Council Chairman of Japan's Liberal Democratic Party.
Mr Takeshita has been criticised this week for suggesting that gay partners of state guests should not be allowed to dine with the Emperor or Empress of Japan. He later apologised for his remarks.
One Twitter user posted part of Mr Williamson's speech with Japanese subtitles and described how it was, "a speech that was admired worldwide at that time." He dedicated it to, "young people who haven't heard it."
In his speech, Mr Williamson says: "All we are doing with this bill is allowing two people who love each other to have that love recognised by way of marriage. That is all we are doing."
"I give a promise to those people who are opposed to this bill right now. The sun will still rise tomorrow.
"Your teenager daughter will still argue back with you as if she knows everything. Your mortgage will not grow," he continues.
"You will not have skin diseases or rashes, or toads in your bed, the world will just carry on. So don't make this into a big deal."
Following the speech New Zealand's parliament legalised same-sex marriage. It was the first country in the Asia-Pacific region to do so.
You may also like:
The post of Williamson's monologue has now been retweeted almost 173,000 times, liked more than 300,000 times and generated hundreds of comments.
One Japanese Twitter user commented: "It is a wonderful speech! Thank you."
Another posted: "We need this kind of person in Japan. Someone who stands up for love."
"I wonder if the day will come when such a wonderful speech can be heard in Japan," read another tweet.
Mr Williamson who is now New Zealand's Consul-General to the US has also responded on Twitter to his new found fame with both bemusement and delight.
He continues to receive messages of thanks from his new Japanese fanbase.