Christmas tree snagged in power lines on way to Kiev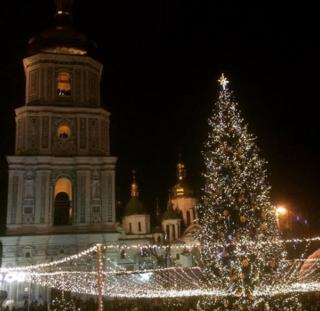 If you celebrate Christmas, you may have spotted a huge tree in your nearest town centre. It might be a longstanding tradition, but conservationists may argue it's unnecessary and damaging to the environment.
Deep in a forest in the western Ivano-Frankivsk region of Ukraine, a 30m (98.5ft) fir tree - thought to be around 100 years old - was filmed being cut down and carefully packed onto a transporter destined for Kiev's central St Sophia Square, the site of Ukraine's main Christmas market.
However, when the tree got stuck in overhead electrical wires, and its journey was halted, some on Twitter called it a 'sign from nature'.
Although many social media users were outraged when footage of the century-old tree being cut down appeared on Facebook, the felling did not come as a shock to everyone as an online petition against the tree's removal had been circulating since November.
However, it failed to collect the number of signatures needed to be properly considered by the Kiev city council.
Your might also like:
"Everywhere abroad, people are fighting for saving trees and nature, and our people chop them down every year. Time to switch to an artificial one," remarked Andrii Stakhow on TV Channel One Plus One's Facebook post about the tree's removal. His comment was liked more than 200 times.
Olena Zubik wrote on news agency UNIAN's Facebook page it would be nice if each city planted a tree and decorated it every year.
Not everyone was upset by the felling as it was assumed the tree was probably old and dangerous. Natasha Chyzhenko took to Our Kiev's community Facebook page to say it was better to plant new trees since the old ones might fall and "tear down power lines leaving people living in the mountains without electricity and heating."
Others said a tree was for the benefit of the children and those who visit the Christmas market. Some couldn't understand what the fuss was about.
"What is the problem? Half of the woods in the Carpathian Mountains have been chopped off. One tree won't make a difference," Serhiy Kosakovskyy wrote, with a hint of sarcasm, on an In.Kyiv Facebook poll asking if the city needs a "living" Christmas tree.