Step up to the invisible box challenge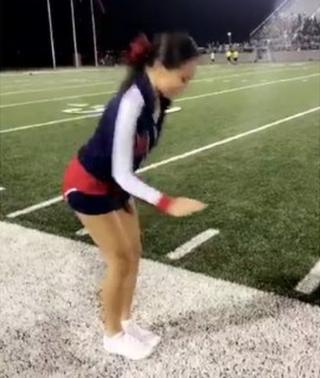 As challenges go on social media, stepping over an invisible box has proved to be quite tricky for some people.
It might sound easy - there's nothing there - but it takes a fair amount of skill and strength to create the illusion there is a box present.
When Ariel Olivar, a cheerleader in Manvel, Texas, USA, showed off her dexterity at defying gravity, her video on Twitter was retweeted 136,000 times (and counting) and liked by over a quarter of a million users.
The trick - which started circulating back in 2014 - is to touch the imaginary box, then keep one foot in the air while the other steps over it. Some people were close, like Maley Moak's friend Maggie.
Some may or may not have had some help, like E J Valdez.
While others - like Holly - didn't quite get it right.
You might also like:
Ariel's fellow cheerleaders also got in on the act, by kicking away the invisible box and, again, garnering tens of thousands of retweets and likes.
It is yet to be seen how this challenge will compare with previous, popular online trends.
The mannequin challenge gained worldwide notoriety and beyond, with the International Space Station filming their own astronaut challenge, as did recipients of the Presidential Medals of Freedom at the White House.
There was also the ice bucket challenge, where people from all walks of life, and a few celebrities poured cold water over themselves to raise awareness and money for the neurodegenerative motor neurone disease.
By 2016, the challenge had raised enough money to fund discovery of a gene contributing to the disease.
Another internet craze called 'planking' - where someone lies flat on their stomach in unusual situations and posts photos on social media - hit the news for the wrong reasons in 2011 when an Australian man plunged to his death whilst participating in a stunt.
Likewise, although hugely popular in 2013, recreations of the Harlem Shake dance craze saw a college librarian sacked, and police officers disciplined.