Cat Person: The short story people are talking about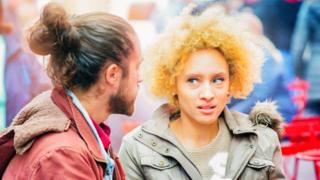 A fictional short story published in a magazine is being shared widely online as social media users discuss how much it relates to modern day dating.
Published in The New Yorker Cat Person by Kristen Roupenian has provoked an online debate about the main character Margot and her date with a man called Robert who has cats.
The story which includes a graphic description of an awkward sexual encounter has been shared on Twitter more than a thousand times and liked almost 2,500 times since it was posted online on Saturday.
Ms Roupenian has described how inspiration for the story came from communications she had with someone online.
In an editorial for the magazine, she said it was: "an excruciatingly bad date story and, I think, a kind of commentary on how people get to know each other, or don't through electronic communication."
In an age of dating apps, swiping left or right, and getting to know potential partners through social media, it seems Cat Person has resonated with a number of people, mostly women, many of whom explained the story's appeal on Twitter.
Another Twitter user posted: "If you think the New Yorker piece Cat Person was about a dude being a bad kisser, honey, please read again bc you did not get it."
A separate tweet read: "I want an investigation on how she wiretapped my inner monologue." While another user tweeted: "Basically anyone who's ever used a dating app could write Cat Person, just maybe not as well."
Ms Roupenian herself has also tweeted that she is both bemused and delighted by how much attention her story is receiving: "I don't really know how to do justice to the conversation that is happening around my story but I am grateful for it," she posted on Twitter.
You may also like:
So what is it about the story of a 20-year-old student's date with an older man that has captured the attention of so many?
The story's popularity suggests the main character's emotions reflect the experiences of many women in the dating game such as dating etiquette, insecurities and shame.
Others shared their own dating horror stories as one user posted: "When I was 17, I went on a date with a 30-year-old. Nothing happened, but I can still relate to a disturbing amount of Margot's feelings here. It was strange and harrowing and a poor choice on my part. But it was an even worse choice on his."
Others however were not so taken by the story of Margot and Robert's romance. A number of Twitter users posted that Robert's character was represented badly.
Another Twitter user commented: "'He felt attractive for once, loved, accepted. She looked past his flaws and made him feel human. It was an extremely biased piece that has prompted a response whereby all men are like this."