How is a bullied child like 'Milkshake Duck'?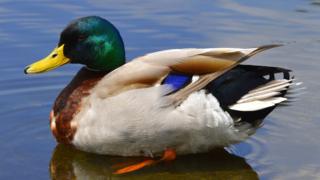 "Milkshake Duck" is slang for someone who is briefly and universally cheered, but then swiftly turned upon because of their previous social media posts. The family of an 11-year-old boy is the latest example of the phenomenon.
Keaton Jones just wanted the bullying to stop.
"It's not OK," he said. "People who are different, don't need to be criticised about it."
His heartfelt plea was videoed by his mother and instantly went viral after she posted it on Facebook. Celebrities including Lebron James and Justin Bieber pledged their support, and offers of help and money rolled in.
But the tone of the online conversation changed dramatically when photos surfaced allegedly showing the family posing with the Confederate flag.
The flag, flown by Southern troops during the US Civil War, is a highly controversial symbol. Although some see it as an emblem of heritage, many others view it as a symbol of racial hatred and the legacy of slavery.
---
You might also be interested in:
---
Facebook posts indicate that Keaton's father, Shawn White, could be a member of the Aryan Circle - a prison gang identified by the FBI as an "organised white supremacist group".
A photo also emerged allegedly showing his father alongside a man with a swastika tattoo. The two men are apparently making a white supremacist gang symbol.
Court documents show that his father had a criminal past. Over the last 20 years, Shawn White has been convicted of drug possession, reckless driving, theft, vandalism, and aggravated assault.
Keaton's mother went on US TV to defend the family, fend off accusations that she was using the incident for personal financial gain, and apologise for the flag photo. But the damage had already been done, and people online began to heap scorn on the family.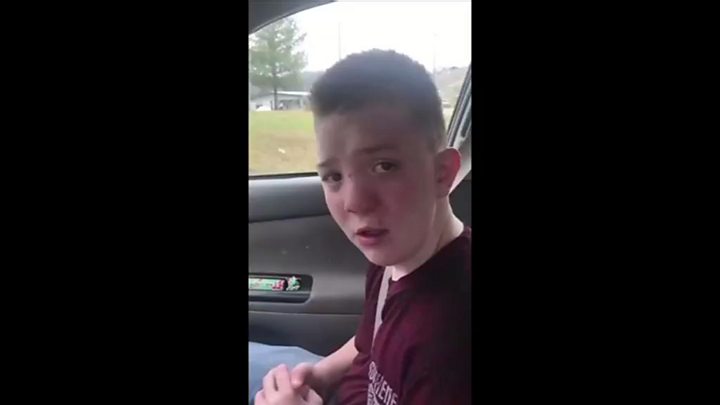 The incident was just the latest "Milkshake Duck" example - so called after a jokey tweet that went hugely viral:
One of the most well-known examples was Ken Bone, a man who became famous after asking a question at one of the US presidential debates in 2016.
Bone's ordinary-guy demeanour and uncool dress sense captured the internet's imagination, but after it emerged that he'd made several unsavoury Reddit posts, some of the love turned to hate.
"On one hand it's a fun meme - its a typical example of millennial humour, you have the complete randomness of this babbled nonsense phrase but then you put it together with this very bleak dystopian look at our society," explains Aja Romano, a web culture reporter for the website Vox. "You never know how the information you put on the internet is going to be used or used against you."
Romano wrote that Milkshake Duck is "about instant virality in the age of social media, as well as the growing polarization of publicly professed ideologies."
"Anyone can become a public figure overnight - but it also means an increased likelihood of discovering that a new favorite has a checkered past."
Romano also notes that the phenomenon is particularly pronounced amongst young people online.
"It becomes this quintessentially Millennial way of approaching internet culture that is light-hearted but also deeply cynical at the core," she told BBC Trending radio.
An 11-year-old boy and his family have found out just how fickle internet fame can be.
Do you have a story for BBC Trending? Email the editor.
More from Trending: Chinese visitors left furious by 'fake' butterfly exhibition
Visitors hoping to see an exhibition displaying thousands of "dancing butterflies" in China last weekend were left disappointed after realising they had bought tickets to see plastic butterflies attached to sticks instead. READ MORE
You can follow BBC Trending on Twitter @BBCtrending, and find us on Facebook. All our stories are at bbc.com/trending.