Russia's dog experiment enrages animal rights activists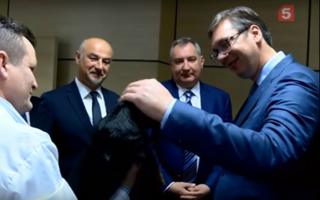 A senior Russian official has been criticised on social media after testing breathing technology on a dog in front of the visiting Serbian president.
Deputy PM Dmitry Rogozin was showing President Aleksandar Vucic the results of the latest Russian research into liquid breathing whereby, rather than breathing air, an organism breathes an oxygen-rich liquid.
As part of the demonstration, broadcast on St Petersburg's Channel 5, scientists in white coats put a dachshund named Nikolas headfirst into a container filled with the oxygen-saturated liquid.
In a clip of the experiment posted on a Russian website, Nikolas the dog first tried to wriggle himself free, but then calmed down and apparently started to breathe.
"The liquid gets into the lungs and the animal starts breathing in the liquid," a commentator told the guests.
Although the dog survived the experiment, social media users and animal rights activists were quick to accuse Mr Rogozin of cruelty to animals.
"A Russian deputy PM with colleagues are mistreating the poor dog. Mistreating humans isn't enough for them, they are not letting dogs live," a popular blogger, who is often critical of the Russian authorities, said in a widely-shared tweet.
In a Facebook post, prominent journalist and political commentator Oleg Kashin accused Mr Rogozin of "fascism".
You might also like:
However, several pro-government TV channels supported the experiment.
NTV, owned by Russia's largest media holding Gazprom-Media, described the experiment as "science fiction that has become reality". State-owned news channel Rossiya 24 called the research "a breakthrough".
But even some pro-Kremlin journalists had reservations.
"This is, of course, progress and a breakthrough, but I feel sorry for the dog," journalist Dmitry Smirnov from the Kremlin's poll of journalists said on Twitter.
The Kremlin itself, however, disagreed with the critics.
Asked about rising criticism on social media, presidential spokesman Dmitry Peskov said: "Is the dog alive? Why are you asking questions? Nobody tortured [the dog] with water there."
Mr Rogozin initially hailed the scientists' work, but following the backlash he said that he would adopt Nikolas the dog.
He also lashed out at a Facebook user questioning the experiment: "Are you a hypocrite or just ignorant? he asked. "Have more respect for the Russian scientists."
Despite being hailed as a "scientific breakthrough", liquid breathing technology has existed for years.
Director James Cameron's 1989 film The Abyss features a rat breathing fluorocarbon liquid in real life.
Ironically, the dog experiment was staged a day before President Vladimir Putin signed a law toughening punishment for animal cruelty.
Over the past few years, Russia has seen violent incidents of animal cruelty.
In one recent example, a group of teenagers from the city of Khabarovsk were sentenced for to up to four years in jail for killing and torturing animals.
Their case sparked outrage among social media users and animal rights activists, prompting parliament to revise the law on animal cruelty and toughen penalties.
Additional reporting by BBC Monitoring's Vitaliy Shevchenko