Oprah's overture for the Oval Office?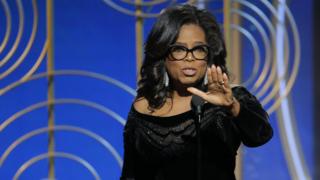 On Sunday night, Oprah Winfrey became the first black woman to win the Cecil B. deMille Award at the Golden Globes. However, some are calling for her to make history in another way, by becoming the first female President of the United States.
It all started with a joke.
During his opening monologue, Golden Globes host Seth Meyers claimed his goading of Donald Trump at the 2011 correspondent's dinner convinced Mr Trump to run for the presidency.
"So, if that's true", Meyers said, "I just want to say: Oprah, you will never be president! You do not have what it takes.
"Now we just wait and see."
You may also like:
However, it was towards the end of the ceremony, when Ms Winfrey delivered her acceptance speech, that many were moved to call for her to run for high office.
Accepting her award for "outstanding contributions to the world of entertainment," Ms Winfrey spoke passionately about race and sexism, and highlighted the work of men and women in tackling inequality in a number of industries.
The hashtag #Oprah2020 has been used over 22,000 times on Twitter since the ceremony, while #OprahForPresident has been used over 7,000 times in the same period.
Twitter users praised the entertainment mogul's presidential style and speculated on her plans to run for political office.
Referring to the closing lines of Ms Winfrey's speech, in which she declared "a new day is on the horizon," American actor and singer Leslie Odom Jr. tweeted "She's running. A new day is on the way."
However, not all of the reaction was as supportive, with some questioning #OprahForPresident.
Drawing parallels with President Trump, some accused Ms Winfrey's supporters of hypocrisy.
Some detractors posted photographs of Ms Winfrey with movie producer Harvey Weinstein, who is at the centre of the sexual harassment scandal in Hollywood.
Others pointed to the ridicule President Trump received for his history as a reality TV personality during his campaign, deriding the 'Oprah 2020' calls.
It is not the first time Ms Winfrey has been tipped for the Oval Office.
In June 2017 she told The Hollywood Reporter she would not seek public office, it followed her comments in March that Mr Trump's election, despite his lack of political experience, made her reassess her own credentials for the role.