Captain Birds Eye's 'salt-and-pepper' look revealed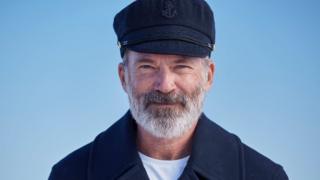 Frozen fish is perhaps not the most glamorous of products to market. However, when Birds Eye revealed the latest incarnation of the face of their product, many on social media had a surprisingly strong reaction.
On Monday the frozen food manufacturer introduced the latest actor to play Captain Birds Eye - Riccardo Acerbi, a 56-year-old actor from the Lazio region of Italy.
The company claims Acerbi has an "affinity for water sports including sailing and canoeing," which they believe give him the "necessary seafaring qualities required by the Captain."
You may also like:
However, much of the reaction on social media was not concerned with the seaworthiness of Acerbi, but his looks.
Others commented on the Captain's new 'smart casual' attire.
Captain Birds Eye through the years
1967 - 1998: John Hewer
1998 - 2001: Thomas Pescod
2002 - 2007: Martyn Reid
Early 2016 - late 2016: Mitch Commins
Mid 2016 - early 2017: Denis Parlato
2017 - 2018: Mark Fletcher
Many commented the new face of the frozen fish brand is a departure from his predecessors. One Twitter user wrote: "This sexy fisherman isn't the captain Birdseye we know and love."
While many were taken with the appearance of the Captain, some were more focused on the actor's age, particularly those expressing relief the younger incarnation of the maritime mascot was still older than they were.
The Daily Swansea, a news-parody blog, also drew attention to an Italian-born actor taking on the role of a staple figure in British advertising. "It's like Brexit never happened, this is not the will of the people," it tweeted.
One social media user noticed a similarity with another actor to portray a different, fictional character (with naval credentials). "He looks like Timothy Dalton!" wrote one person on Facebook in response to Birds Eye's unveiling of Acerbi.
Birds Eye added Acerbi secured the role after winning them over with his "genuine approach to portraying the Captain and love of the sea," and hoped he would portray a "contemporary, salt-and-pepper" Captain.