Pro-Putin social media campaign hijacked by critics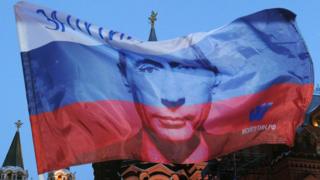 A hashtag extolling the virtues and achievements of Russian President Vladimir Putin has been trending. However, what started out as a pro-Putin call to action has since been taken over by critics.
The hashtag, which translates as #RussiaNeedsPutin, began as a choreographed political campaign by accounts linked to the ruling United Russia party ahead of the presidential election this year.
The tweets praised Mr Putin's ability to unite the country and his role in guiding Russia through the turbulent post-cold war years.
The hashtag has been among the top trending topics on Russian social media since 14 January, and has been used almost 7,000 times on Twitter in the same period.
Although Mr Putin is running as an independent candidate rather than from United Russia, party-linked accounts began using the tag to coincide with efforts to collect signatures in support of Mr Putin's campaign for re-election.
You may also like:
Mr Putin needs 300,000 signatures from across the country to secure his place on the ballot for the election on 18 March.
Many included the hashtag when posting photos of themselves pledging their support to the President at a number of registration points.
Vladimir Putin has been in power, either as the Prime Minister or President, since the year 2000 and enjoys huge popularity with many Russians.
However, those critical of the President seized the popularity of the hashtag to highlight issues facing the country and the restriction of political freedoms within it.
A critic wrote: "Russia needs roads, education, medicine, to fight against corruption, gasification, free higher education, alternation of power, parliamentary regime, freedom of enterprise and free media. This is what Russia needs and not Putin."
One Twitter user mocked those extolling Mr Putin's virtues: "Don't know about you, but I want more violation of my constitutional rights, I want our country to degrade me and the people to become even more stupid. Mr Putin, may Russian Christ protect you!"
"Corruption, rampant corruption, citizens' rights abuse, nominating only the 'right' people as candidates, ignoring public opinion, police brutality, low wages, arresting people at peaceful demos, yesyesyes, #RussiaNeedsPutin"
The rise and origins of the hashtag have sparked questions about the role of pro-Kremlin bots in amplifying the popularity of the term.
Russian-backed accounts have previously been accused of manipulating conversations on social media and running disinformation campaigns.